Book and Videos Pages:
Sunshine's Fantasy World
BE 101 Book
Sunshine's Treasures Book 1
In The Beginning Book
BE by Delma Moore
BE Books 1
BE Books 2
Be Books 3
BE Books 4
Videos
Books "A"
Books "A" 2
Books "B"
Books "C"
Books "C" 2
Books "D"
Books "E"
Books "E" 2
Books "E" 3
Books "F"
Books "F" 2
Books "H,I,&J"
Books "J"
Books "L"
Books "M"
Books "N-O"
Books "P"
Books "P" 2
Books "Q"
Books "R"
Books "S"
Books "S" 2
Books "S" 4
Books "T"
Books "T" 2
Books "V"
Books "W,X,Y,Z"
Books "Elizabethan Series"
Paper Embroidery Books
Punchneedle Books
Main Categories

♥Table of Contents

♥JDR Brazilian
Embroidery Designs
♥Hearts and Flowers Designs
♥Quilt Sampler Designs
♥Brazilian Embroidery
Learning Kits
♥Starter Package
♥ Sunshine's Treasures


♥ Brazilian Embroidery
Guest Designers
♥Delma Moore
♥Candle In The Cellar
♥Karen Buell
♥Maria Freitas
♥Mary Kurbis
♥Debbie Kelley
♥Brandi Mikla
♥Anna Grist
♥Christmas Designs
♥Quilt Blocks


♥Threads and Ribbons
♥EdMar Threads
♥Thread Packets
♥ Sale Thread Packets
♥Kreinik
♥Japan Threads
♥YLI Candlelight
♥YLI Silk Ribbon

♥New Notions
♥ Notions and Supplies Index
♥Brazilian Embroidery Supplies
♥Tools and Gadgets
♥Tools and Needle Keepers
♥Supplies
♥Thread Organizers
♥ Embroidery Needles
♥Fabric Pens and Pencils
♥Needle Threaders
♥Hoops
♥Glues, Sprays and Cleaners
♥Cases and Totes
♥Scissors
♥Fabric
♥Magnifiers and Lights
♥Pin Cushions
♥Beading Accessories
♥Punchneedle Supplies

♥ Beads and Baubles


"In The Beginning" Flower Instructions by Sunshine
20 page booklet of color directions for the 12 beginning flowers written by Sunshine. This takes you beyond the book by Ria Ferrell. This is set up in a teaching "lesson" format.

The color pictures help with understanding the stitch techniques.

BK-I101 In The Beginning

$11.99

The following designs use these directions. The "wraps" and "loops" are the same in each pattern. You just change the color of the threads!

JDR316 Rolled Roses
JDR317 Lazy Daisy
JDR320 Cross-Needle Hydrangea
JDR321 Gerone Daisy
JDR322 April Flower
JDR323 Bossa Nova Rose
JDR 324 Cast-on and Creeping Flowers
JDR325 Japanese Violets
JDR327 Snow Flower
JDR 337 Creeping Flower
JDR338 Peach Blossom
JDR339 Cast-on Flower
JDR340 Carnation
JDR 149 Beginner's Delight
JDR 201 Adapted Beginning Pillow
JDR 305 JDR Beginning Pillow
JDR 308 JDR Advanced Pillow
JDR 324 Cast-on and Creeping Flowers
JDR 369 Beginning Patchwork
JDR 500 Ellen's Basket
JDR 501 Ellen's Beginning Pillow
---
International Series: Beaded Ornament Covers Karen DeSousa

This is a sequel to the popular beading books BK-B125 Beaded Ornament Covers and BK-C127 Celestial Series. This book presents four more beaded ornament covers with several variations each, all clearly explained with excellent large step-by-step diagrams. Included are Romanoff (advanced), Yasmin (advanced), Chinese Lantern (intermediate) and Patriot (beginner). Romanoff can be personalized with a baby's photo or a cameo. Helpful hints make this book invaluable for beginner or experienced beaders.

BK-I105 $18.00 1 left
---
JDR Brazilian Embroidery Book 1 by Ria Ferrell


This book has the 12 flowers that all beginning Brazilian Stitchers should learn first. Kits to match the stitches taught in this book are available that include the print, ecru or white, threads, needles, and teaching directions. Also there is available "Prints with Directions" in white and ecru of the 12 designs in this book.
A great teaching tool and a great quick reference guide. These 12 would be great made as a quilt!

BK-J101 $8.95
---

JDR 192 The Flower Shop

20" x 20" Advanced Brazilian Embroidery Design
52 different Brazilian Embroidery Flowers
30 page Booklet of flower and stitch directions.
The stitcher should have the basic knowledge of Brazilian Embroidery. This design was not meant to teach you all of the basics. But there is a good review with diagrams of all of the stitches used in the design.

JDR192 Ecru fabric print $24.00 How Many?

JDR192 White fabric print $24.00 How Many?

JDR 192 TP $99.00 How Many?
Full Skein Thread Packet This is a great stash builder - It has all of the most used colors!
---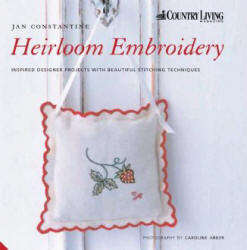 Heirloom Embroidery Book by Jan Constantine

'Heirloom Embroidery' is an exquisite collection of 30 beautiful hand-embroidery projects all designed by Jan Constantine, suitable for beginners and established embroiderers alike. With clear step by step instructions, Jan guides the reader through the various stitches and simple sewing methods required for each item.

Hard cover, 128 pages
BK-H1905 $24.95

SEARCH

Join Our Email Newsletter

Enter E-mail address and first name, last name into box and press Subscribe. Newsletters will not be sent out more than once a week. There will be sales and information for subscribers only.
Sunshine's Newest Book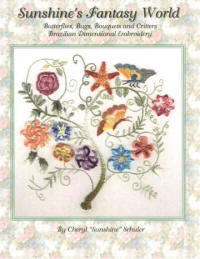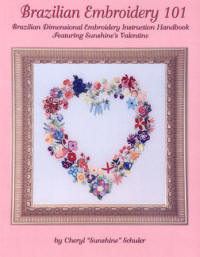 Brazilian Embroidery 101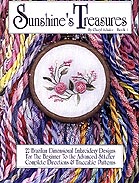 Sunshine's Treasures


♥ Thread Organizer
♥Thread Packets
♥Marvey Pen


Information
♥Thread Inventory Sheets
♥Needle Size Charts
♥Thread VS Needle Size
♥What do I need to begin?
♥Opening A Skein
♥Straightening Your Threads
♥Storing Your Threads
♥Technique "Levels
♥Knotting The Thread
♥Correct use of Hoop
♥ Gift Certificates
♥ Contact Us
♥ Printable Catalog

♥ Teachers Information
♥ Wholesale Information
♥Resources/links




Visit our totally
Dimensional site.


JDR Brazilian Elegance
Specializing in Brazilian Dimensional Embroidery but providing much more!
Striving to keep you Wrapped In Stitches!
P.O. 37, Hunter, ND 58048-0037 USA
© 1999-2015 All Rights Reserved
All JDR patterns & designs are copyrighted for JDR Brazilian Elegance.
The designs presented for any other designer on our web site are also
copyrighted by the individual designer. No part of this material/website
may be reproduced in any form, in whole or in part, by any means-mechanical, electronic, graphic, downloading, photocopying, photographing, tracing or means yet to be discovered without written permission.
Prices are subject to change with out notice
Contact Us Ordering Information Shipping Fees Terms & Payments Back Orders/Special Orders Returns