♥ Table of Contents

♥ JDR Brazilian Embroidery Designs
♥Hearts and Flowers Designs
♥Quilt Sampler Designs
♥Brazilian Embroidery Learning Kits
♥Starter Package
♥Sunshine's Treasures

♥ Brazilian Embroidery Guest Designers

♥Delma Moore-Blackberry Lane
♥Candle In The Cellar
♥Karen Buell
♥Maria Freitas EdMar
♥Mary Kurbis
♥Debbie Kelley
♥Brandi Mikla
♥Anna Grist
♥Christmas Designs
♥Quilt Blocks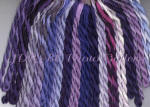 ♥Threads and Ribbons
♥EdMar Threads
♥Thread Packets
♥YLI Silk Ribbon
♥Kreinik Metallic
♥Japan Threads
♥YLI Candlelight
♥Rajmahal Art Silk
♥Faceted Metallic Thread
♥Specialty - Metallic

♥Notions and Supplies Index
♥Brazilian Embroidery Supplies

Notions and Supplies Index
♥Newest Notions
♥Brazilian Embroidery Supplies
Thread organizers, apples for the EdMar design, color charts, needle packs, needle grabbers, Color Ring.
♥Tools and Gadgets
♥Tool and Needle Keepers
♥More notions and supplies
♥ Glues, Sprays and Cleaners
♥Thread Organizers
♥ Embroidery Needles
♥Needle Size Charts
♥Thread VS Needle Size
♥Marking Pens and Pencils
♥Needle Threaders
♥Cases and Totes
♥Tote-A-Long Bags
♥Hoops
♥Even More Hoops
♥Scissors
♥More Scissors
♥Fabric
♥Magnifiers and Lights
♥Pin Cushions
♥ Beading Accessories
♥Punchneedle Supplies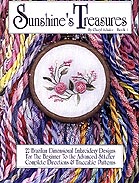 ♥Books and Videos

♥Paper Embroidery

♥Stumpwork

♥Beads and Baubles
Straightening Your Threads
Because of the skeining of the threads they will be kinky when the skein is opened. You can steam or tug them to straighten them but you might want to try my misting method. It is a kinder, gentler way of straightening the threads. Some stitchers use a dampened sponge and run their threads across it.
Sunshine's Recommended method of straightening the threads:
· Open your threads like explained.
· Let the threads unwind.
· Hang the threads up on a hanger or hook by the tag.
· Space the deep colors away from the light colors.
The colors might bleed if wet and touching each other. (The bleed would wash out but until the stitching is finished and washed the colors may be misleading)
· Use a bottle with a VERY fine mister
Fill with distilled water.
Mist the threads. MIST – DO NOT DRENCH.
You will immediately see the threads start to straighten.
Why distilled water? You can use any water really - but if your city water is very chlorinated it is better to use bottled water.
Let your threads hang until COMPLETELY DRY.

· A clothing "wrinkle remover-steamer" can be used to steam out the wrinkles and kinks in the thread. Run the threads back and forth through the steam.
· The threads can be steamed with a steam iron to smooth out the wrinkles and small kinks. Lay the strands flat out on a thick cloth and gently run the hot steam, not touching with the iron, over them. DO NOT IRON THE THREADS!


---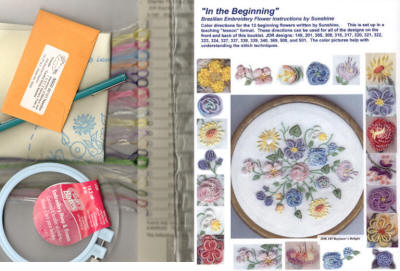 Brazilian Embroidery Starter Package


View Cart
This Area Home
Sunshine's Newest Book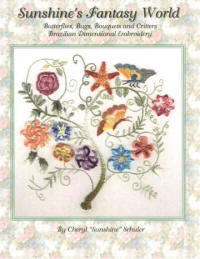 Sunshine's Fantasy World

♥ Thread Organizer
♥ Thread Packets
♥ Brazilian Embroidery 101 Book
♥ Marking Pen

Information
♥Thread Inventory Sheets 8.5 x 11
♥ Needle Size Charts
♥ Thread VS Needle Size
♥ Laundering Information
♥What do I need to begin?
♥Opening A Skein
♥Straightening Your Threads
♥Storing Your Threads
♥Technique "Levels"
♥Knotting The Thread
♥Correct use of Hoop
♥ Gift Certificates

♥ Contact Us
♥ Printable Catalog
♥Printable Retail Price sheets
♥ Teachers Information
♥ Wholesale Information
♥Resources/links



Striving to keep you Wrapped In Stitches!
P.O. 37, Hunter, ND 58048-0037 701-874-2430 Fax: 1-701-874-2434
© 1999-2015 All Rights Reserved

All JDR patterns & designs are copyrighted for JDR Brazilian Elegance. The design s presented for any other designer on our web site are also copyrighted by the individual designer. No part of this material/website may be reproduced in any form, in whole or in part, by any means-mechanical, electronic, graphic, downloading, photocopying, photographing, tracing or means yet to be discovered without written permission.
Prices are subject to change with out notice