Thorns & Roses by Debbie Kelley
Rose & Cactus Designs for Brazilian Embroidery
Detailed basic instructions, detailed Rose, Wild Rose and Cactus instructions.
Traceable patterns for seventeen designs.
BK-T121 $24.00
..... more information


---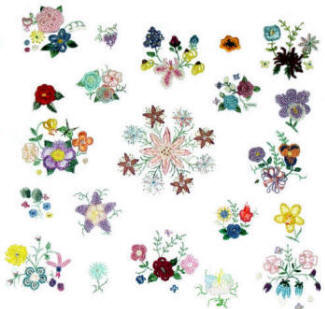 JDR 192 The Flower Shop (BK-J192)
20" x 20" Advanced Brazilian Embroidery Design
52 different Brazilian Embroidery Flowers
30 page Booklet of flower and stitch directions.
The stitcher should have the basic knowledge of Brazilian Embroidery. This design was not meant to teach you all of the basics. But there is a good review with diagrams of all of the stitches used in the design.
BK-JDR192 Book with Ecru fabric print $24.00 How Many?
BK-JDR192 Book with White fabric print $24.00 How Many?


JDR192TP How Many?
Full Skein Thread Packet $96.65 This is a great stash builder - It has all of the most used colors!
---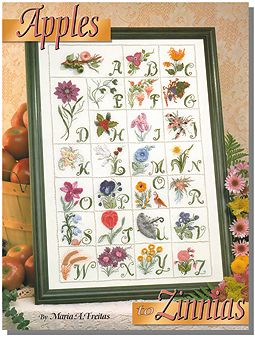 Apples to Zinnias
by Maria Freitas
Over 50 illustrated pages of instructions for stitches, leaves and flowers. Comes with full size tracing pattern.
EdMar
...more information

Apples to Zinnias Book BK-A114 $18.00 (black & white)

---
BK-D113 $30.00

Down The Garden Path by Anna Grist
---
SEARCH

Join Our Email Newsletter

Enter E-mail address and first name, last name into box and press Subscribe. Newsletters will not be sent out more than once a week. There will be sales and information for subscribers only.