Sunshine's Fantasy World , BE 101 Book, Sunshine's Treasures Book 1, In The Beginning Book, BE Books 1, BE Books 2, Be Books 3, Videos, Books A, B, B 2, C, C2, D, E, E2, E3, F, F 2, H,I,&J, J, L, M, N-O, P, P2, Q, R, S, S2, S4, T, T2, V, W,X,Y,Z,
Elizabethan Series, Paper Books, Punchneedle Table of Contents
Book and Videos Pages:
Sunshine's Fantasy World
BE 101 Book
Sunshine's Treasures Book 1
In The Beginning Book
BE by Delma Moore
BE Books 1
BE Books 2
Be Books 3
BE Books 4
Videos
Books "A"
Books "A" 2
Books "B"
Books "C"
Books "C" 2
Books "D"
Books "E"
Books "E" 2
Books "E" 3
Books "F"
Books "F" 2
Books "H,I,&J"
Books "J"
Books "L"
Books "M"
Books "N-O"
Books "P"
Books "P" 2
Books "Q"
Books "R"
Books "S"
Books "S" 2
Books "S" 4
Books "T"
Books "T" 2
Books "V"
Books "W,X,Y,Z"
Books "Elizabethan Series"
Paper Embroidery Books
Punchneedle Books
Main Categories

♥Table of Contents

♥JDR Brazilian
Embroidery Designs
♥Hearts and Flowers Designs
♥Quilt Sampler Designs
♥Brazilian Embroidery
Learning Kits
♥Starter Package
♥ Sunshine's Treasures


♥ Brazilian Embroidery
Guest Designers
♥Delma Moore
♥Candle In The Cellar
♥Karen Buell
♥Maria Freitas
♥Mary Kurbis
♥Debbie Kelley
♥Brandi Mikla
♥Anna Grist
♥Christmas Designs
♥Quilt Blocks


♥Threads and Ribbons
♥EdMar Threads
♥Thread Packets
♥ Sale Thread Packets
♥Kreinik
♥Japan Threads
♥YLI Candlelight
♥YLI Silk Ribbon

♥New Notions
♥ Notions and Supplies Index
♥Brazilian Embroidery Supplies
♥Tools and Gadgets
♥Tools and Needle Keepers
♥Supplies
♥Thread Organizers
♥ Embroidery Needles
♥Fabric Pens and Pencils
♥Needle Threaders
♥Hoops
♥Glues, Sprays and Cleaners
♥Cases and Totes
♥Scissors
♥Fabric
♥Magnifiers and Lights
♥Pin Cushions
♥Beading Accessories
♥Punchneedle Supplies

♥ Beads and Baubles



Miniature Punchneedle Embroidery:
Simple Techniques, Beautiful Projects
Learn the techniques in minutes and finish your first design in a few hours! This comprehensive guidebook covers everything from tools and supplies to finishing and framing.
Eleven folk-art-inspired designs included. Linda Repasky
BK-M2002 $18.00
---

Making Needlework Accessories Embroidered with Beads
by Carol Andrews

Create the contents of a sewing box in colorful designs embellished with fine bead embroidery. Discover how to create stunning needlework accessories like a needle book, scissors case, pincushion and scissors fob in Victorian, Indian and floral styles, plus adornments for gifts and dress decoration. Use stunning silks, sparkling beads and couched metallic threads. Step-by-step instructions and detailed illustrations are included in this comprehensive 128 page book.

BK-M1794 $42.00
---

Making Teddy Bears in Miniature

by Angela Bullock
Make and dress miniature teddy bears with ease! 17 Bear patterns, drawn to scale, cutting guides, step-by-step instructions and detailed diagrams make it easy for a beginner to advanced sewer to create a special Teddy. Additional instructions for designing a habitat for your friends, provide creative inspiration. 1 left
BK-M103 $20.00
---

Miniature Embroidery For The Victorian Doll's House
by Pamela Warner
A collection of extraordinary projects showing how to carry out needlework in miniature, including patchwork, canvas work, cross stitch, surface embroidery and simulated lacework, appliqué and quilting. Over 40 projects recreate all the main styles of the nineteenth and early twentieth centuries; early and late Victorian; and Edwardian. 185 pages.
BK-M104 $20.00
2 left
---

My First Embroidery Book
by Winky Cherry
A five to eleven year old will make a name sampler, learning straight stitch embroidery horizontally, vertically and diagonally and the cross stitch and satin stitch. Palmer/Pletsch Publishing
BK-M107 $15.00
1 left
---

Metal Thread Embroidery
Jane Lemon
Tools, Materials and Techniques
Hardcover, 297 page book on the tools, materials and techniques of metal thread embroidery. Metal thread embroidery is perhaps the most challenging and exciting technique available to the embroiderer. It originated in the East but traveled slowly west, reaching a peak in the medieval period. This book is divided into five sections and includes 200 colored photographs. The sections include step-by-step explanations and photographs of finished work and techniques.
BK-M108 $30.00
---

Metal Thread Embroidery
book - softcover Jane Lemon 208 page book in A-Z format for an instant and accessible guide to metal thread for both experienced and beginner embroiderers. Comprehensive coverage of all the tools and materials is included as well as diagrams, instructions and stunning close-up photos for each technique. The gallery of finished pieces will inspire every needleworker.

BK-M1957 $25.00
SEARCH

Join Our Email Newsletter

Enter E-mail address and first name, last name into box and press Subscribe. Newsletters will not be sent out more than once a week. There will be sales and information for subscribers only.
Sunshine's Newest Book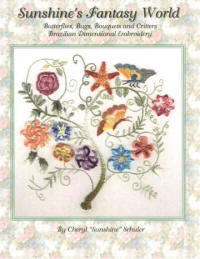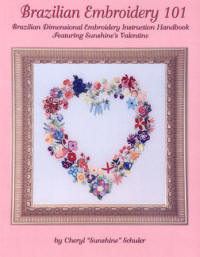 Brazilian Embroidery 101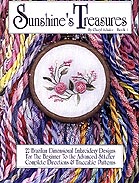 Sunshine's Treasures


♥ Thread Organizer
♥Thread Packets
♥Marvey Pen


Information
♥Thread Inventory Sheets
♥Needle Size Charts
♥Thread VS Needle Size
♥What do I need to begin?
♥Opening A Skein
♥Straightening Your Threads
♥Storing Your Threads
♥Technique "Levels
♥Knotting The Thread
♥Correct use of Hoop
♥ Gift Certificates
♥ Contact Us
♥ Printable Catalog

♥ Teachers Information
♥ Wholesale Information
♥Resources/links




Visit our totally
Dimensional site.


JDR Brazilian Elegance
Specializing in Brazilian Dimensional Embroidery but providing much more!
Striving to keep you Wrapped In Stitches!
P.O. 37, Hunter, ND 58048-0037 USA
© 1999-2015 All Rights Reserved
All JDR patterns & designs are copyrighted for JDR Brazilian Elegance.
The designs presented for any other designer on our web site are also
copyrighted by the individual designer. No part of this material/website
may be reproduced in any form, in whole or in part, by any means-mechanical, electronic, graphic, downloading, photocopying, photographing, tracing or means yet to be discovered without written permission.
Prices are subject to change with out notice
Contact Us Ordering Information Shipping Fees Terms & Payments Back Orders/Special Orders Returns