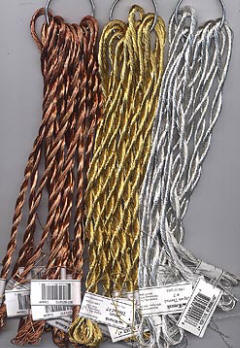 Japanese Thread : Synthetic non-tarnishing gimps available in Gold, Silver and Copper and now in several other colors. These threads are excellent for fine stitching, outlining, couching, and laid work. They give the appearance of stitching with metal threads.. Since real metal threads are rare and expensive, Japan threads are an ideal substitute. They are dry-cleanable only
Left to right - Copper Gold Silver Weight#7
Dark gold was missing on picture taking day.
To open a skein of Japan #5 or Japan #7, hold the skein by the loop with one hand and gently pull off the paper label. Hold the skein and insert one or two fingers into the loop end that does not have the knot. Separate the twisted threads by running your finger slowly down the middle and gently pulling them apart. Lay the skein on a table and untie the loose knot located at one end. Insert your finger in the loop at the end opposite the loosened knot. Place your other hand in the center beneath the loop and very slowly separate the twisted threads. Cut the threads at one end and then use the appropriate length for your stitches. The remaining Japan Threads should not be folded.
JAPAN THREADS

#1
#5
#7

#5 Skein
# 7
Skein
Meters
10
10
10
10
10
$1.80
$2.40
$2.40
$3.50
$3.50
001J
Silver
$3.50


$3.50

002J
Gold
$3.50


$3.50

003J
Red
$3.50


008J
Green
$3.50


110 J
Black
$3.50


160J
Rustic Gold
$3.50


165J
Oriental Bronze
$3.50

170J
Natural Pewter
$3.50


200J
Hot Chocolate
$3.50


216J
Native Copper
$3.50


021J
Copper
$3.50


$3.50

220J
Burnished Gold
$3.50


$3.50

245J
Bright Magenta
$3.50

280J
Country Blue
$3.50

321J
Dark Gold

$1.80
$3.50








Thread packets!



Thread Packet TP32 "Jordan's Favorites"



Thread Packet "Mint Julep" TP 29



"Strawberry Shortcake" TP 30

More Gorgeous Thread Packets



SEARCH

Join Our Email Newsletter

Enter E-mail address and first name, last name into box and press Subscribe. Newsletters will not be sent out more than once a week. There will be sales and information for subscribers only.