♥ Table of Contents

♥ JDR Brazilian Embroidery Designs
♥Hearts and Flowers Designs
♥Quilt Sampler Designs
♥Brazilian Embroidery Learning Kits
♥Starter Package
♥Sunshine's Treasures

♥ Brazilian Embroidery Guest Designers

♥Delma Moore-Blackberry Lane
♥Candle In The Cellar
♥Karen Buell
♥Maria Freitas EdMar
♥Mary Kurbis
♥Debbie Kelley
♥Brandi Mikla
♥Anna Grist
♥Christmas Designs
♥Quilt Blocks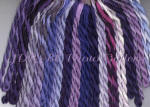 ♥Threads and Ribbons
♥EdMar Threads
♥Thread Packets
♥YLI Silk Ribbon
♥Kreinik Metallic
♥Japan Threads
♥YLI Candlelight
♥Rajmahal Art Silk
♥Faceted Metallic Thread
♥Specialty - Metallic

♥Notions and Supplies Index
♥Brazilian Embroidery Supplies

Notions and Supplies Index
♥Newest Notions
♥Brazilian Embroidery Supplies
Thread organizers, apples for the EdMar design, color charts, needle packs, needle grabbers, Color Ring.
♥Tools and Gadgets
♥Tool and Needle Keepers
♥More notions and supplies
♥ Glues, Sprays and Cleaners
♥Thread Organizers
♥ Embroidery Needles
♥Needle Size Charts
♥Thread VS Needle Size
♥Marking Pens and Pencils
♥Needle Threaders
♥Cases and Totes
♥Tote-A-Long Bags
♥Hoops
♥Even More Hoops
♥Scissors
♥More Scissors
♥Fabric
♥Magnifiers and Lights
♥Pin Cushions
♥ Beading Accessories
♥Punchneedle Supplies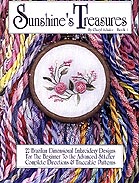 ♥Books and Videos

♥Paper Embroidery

♥Stumpwork

♥Beads and Baubles
You MUST have the appropriate supplies to make this an enjoyable stitching experience. Problems may arise with the use of improper materials.

Suggested supplies:

Milliners Needles: Size 1,3,5,7; #18 or #16 Darner; (Sunshine's Suggestion: ♥N900 JDR-BE 101 Beginner Needle Assortment
2 each of size 1,3,5,7 milliner needles; 2 of #18 darner, one Black Beauty needle threader, one Needle puller, card with needle pictures for a guide, Thread vs. Needle Size Information. Great for the beginner!)

The needle types and sizes are on the needles pages.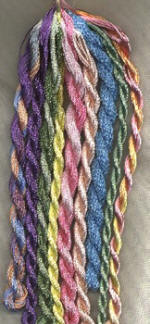 "Z" Twist Thread: You will need a sampling of each weight – color scheme is not an issue unless you want your doodle cloth to become a masterpiece.



"Black Beauty" needle threader




Embroidery Hoop: Susan Bates 5" or smaller.
A good way to decide if the hoop is the right size is to grip the edge of the hoop like you would when you are stitching: if your fingers can easily reach the center the hoop is a good size for you.

Spring hoops-I do not recommend for the beginner. Frustration created when stitching the squeezer bars into your stitching is not something that will happen with a Susan Bates hoop.
You will find that the spring hoops do not hold the fabric taut enough to keep the fabric from puckering.

A Thick Towel: This is to place under your work when stitching at the table. You will need to set your work down often to complete some of the stitches. This helps to keep the table from getting scratched. The towel also keeps those needles from rolling off the table.




Water Soluble Marker: Marvey Pen



Scissors: Small-easy-to-handle and keep in your sewing kit.



I recommend the thread cutter pendant if you are going to be flying and want to take your stitching on to the plane.

Needle grabbers: The grabbers are used when the thread has been wrapped excessively tight around the needle and a grip is needed to pull the needle through. Some stitchers have gotten those "free give a ways" from their banks or real estate companies that are for opening your canning jars and then cut them into disks. A rubber balloon also works well.

Magnifier: Good "cheater" reading glasses or a magnifier similar to the Mag-eyes.

Light Source: Get a good light source that can give you lighting without a lot of shadows. Daylight is best. If you are right handed have your light source behind your left shoulder.


Drizzle Pin Cushion: This is different than a tomato pincushion. The flat base keeps the pincushion form tipping over or rolling away while you are making drizzle stitches.


Doodle Cloth: Trigger/Blazer Poplin – Cream or White 20" x 20"
All stitcher should have a proper doodle cloth to practice new techniques and flowers. The doodle-cloth can "some day" become a work of art!

I suggest that you begin by putting your initials, an oval, a heart or some favorite shape on your doodle cloth with a water-soluble marker.

Do not use ink pens, graphite pencils or air erasable pens for marking your fabric.
Leave at least 4 inches around the edge. Make the drawing big enough to accommodate at least 20 flowers – so take up almost all of the space with your drawing.
The doodle creation is for fun and practice– don't try to make it absolutely perfect!
Use the doodle cloth to practice your stitches and flowers, placing the flowers along the drawn shape.

The heart was pictured in the local newspaper - my first doodle cloth. Out of all of the designs that were hanging in the show room, this is the one they picked to photograph. The bullions were not neat and tidy and the cast-ons were uneven. There were some pretty strange looking flowers and leaves. But it really did turn out pretty. When I started, I wanted to know every flower there was and just couldn't spend the time repeating one flower. I was on a passionate journey!


Pictures of my first two doodle cloths are below.
Yours will look just as great!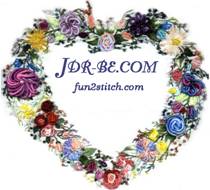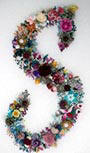 Your doodle cloth can become a work of art too!
Lots of beads and field flowers were added.
Buttons were added to the "S".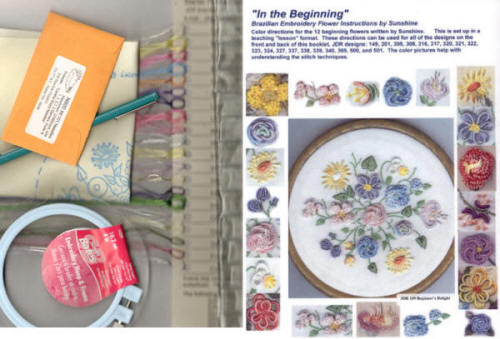 If you would like what I call a starter package see below:

♥N900
JDR-BE 101 Beginner Needle Assortment
$4.00
♥1 SB4
Susan Bates 4" hoop
$2.75
♥1 TO
16 Slot Thread organizer
$4.00
♥1 TO102
Puller for thread organizer
$ .50
♥Screen Printed design
JDR 149 Cream fabric print for practice (This is the design that is on the front cover of the book)
$7.00
♥MP105
Marvey water soluble pen
$2.89
♥ Beginner Thread Sample
Beginning Sampling of threads. This is a card with all of the colors needed to do JDR 149 + some extras to give a try. There is plenty of thread on this card in case you make a mistake. All the weights of EdMar threads are included. Each thread is labeled to tell you were it is used in the design "Beginner's Delight".
$15.60
♥BK-I101
"In The Beginning" Booklet with all the beginning flowers and stitches.
$11.99
Total Value for the Beginner Starter Package
$48.48

$48.48 Your Sale Cost $43.50




No additional discounts to stores or teachers

---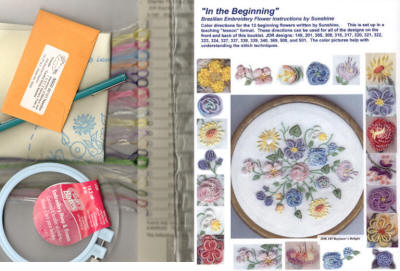 Brazilian Embroidery Starter Package


View Cart
This Area Home
Sunshine's Newest Book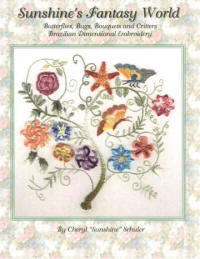 Sunshine's Fantasy World

♥ Thread Organizer
♥ Thread Packets
♥ Brazilian Embroidery 101 Book
♥ Marking Pen

Information
♥Thread Inventory Sheets 8.5 x 11
♥ Needle Size Charts
♥ Thread VS Needle Size
♥ Laundering Information
♥What do I need to begin?
♥Opening A Skein
♥Straightening Your Threads
♥Storing Your Threads
♥Technique "Levels"
♥Knotting The Thread
♥Correct use of Hoop
♥ Gift Certificates

♥ Contact Us
♥ Printable Catalog
♥Printable Retail Price sheets
♥ Teachers Information
♥ Wholesale Information
♥Resources/links



Striving to keep you Wrapped In Stitches!
P.O. 37, Hunter, ND 58048-0037 701-874-2430 Fax: 1-701-874-2434
© 1999-2015 All Rights Reserved

All JDR patterns & designs are copyrighted for JDR Brazilian Elegance. The design s presented for any other designer on our web site are also copyrighted by the individual designer. No part of this material/website may be reproduced in any form, in whole or in part, by any means-mechanical, electronic, graphic, downloading, photocopying, photographing, tracing or means yet to be discovered without written permission.
Prices are subject to change with out notice