Sunshine's Fantasy World , BE 101 Book, Sunshine's Treasures Book 1, In The Beginning Book, BE Books 1, BE Books 2, Be Books 3, BE Books 4, Videos, Books A, A 2, B, C, C2, D, E, E2, E3, F, F 2, H,I,&J, J, L, M, N-O, P, P2, Q, R, S, S2, S4, T, T2, V, W,X,Y,Z,
Elizabethan Series, Paper Books, Punchneedle Table of Contents
Book and Videos Pages:
Sunshine's Fantasy World
BE 101 Book
Sunshine's Treasures Book 1
In The Beginning Book
BE by Delma Moore
BE Books 1
BE Books 2
Be Books 3
BE Books 4
Videos
Books "A"
Books "A" 2
Books "B"
Books "C"
Books "C" 2
Books "D"
Books "E"
Books "E" 2
Books "E" 3
Books "F"
Books "F" 2
Books "H,I,&J"
Books "J"
Books "L"
Books "M"
Books "N-O"
Books "P"
Books "P" 2
Books "Q"
Books "R"
Books "S"
Books "S" 2
Books "S" 4
Books "T"
Books "T" 2
Books "V"
Books "W,X,Y,Z"
Books "Elizabethan Series"
Paper Embroidery Books
Punchneedle Books
Main Categories

♥Table of Contents

♥JDR Brazilian
Embroidery Designs
♥Hearts and Flowers Designs
♥Quilt Sampler Designs
♥Brazilian Embroidery
Learning Kits
♥Starter Package
♥ Sunshine's Treasures


♥ Brazilian Embroidery
Guest Designers
♥Delma Moore
♥Candle In The Cellar
♥Karen Buell
♥Maria Freitas
♥Mary Kurbis
♥Debbie Kelley
♥Brandi Mikla
♥Anna Grist
♥Christmas Designs
♥Quilt Blocks


♥Threads and Ribbons
♥EdMar Threads
♥Thread Packets
♥ Sale Thread Packets
♥Kreinik
♥Japan Threads
♥YLI Candlelight
♥YLI Silk Ribbon

♥New Notions
♥ Notions and Supplies Index
♥Brazilian Embroidery Supplies
♥Tools and Gadgets
♥Tools and Needle Keepers
♥Supplies
♥Thread Organizers
♥ Embroidery Needles
♥Fabric Pens and Pencils
♥Needle Threaders
♥Hoops
♥Glues, Sprays and Cleaners
♥Cases and Totes
♥Scissors
♥Fabric
♥Magnifiers and Lights
♥Pin Cushions
♥Beading Accessories
♥Punchneedle Supplies

♥ Beads and Baubles


Brazilian Embroidery BOOKS And VIDEOS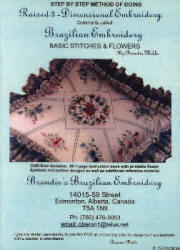 Brazilian Embroidery DVD
by Brandie Mikla
Raised 3-Dimensional Embroidery DVD (Brazilian embroidery) Basic stitches and flowers are shown on this DVD of raised 3-dimensional embroidery. DVD includes 80+ page instruction book (down loadable from dvd) with printable flower symbols and pattern designs as well as additional reference material. DVD 500 $25.99 How Many?
by Brandie Mikla

---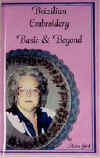 DVD 101 $20.00
Basic & Beyond by Anna Grist
2 ½ hour DVD Anna teaches you the bullion, Cast-on, couching, Leaf, Buttonhole, Pistil Stitch, Lazy Daisy, Detached Buttonhole, Double Cast-On, French Knot and Straight Stitches.


---
Learn punchneedle from a successful designer and instructor, Charlotte Dudney. Instructional DVD teaches the basics of miniature punchneedle embroidery. It also includes a sunflower pattern preprinted on a piece of fabric. The project requires a 3-strand punchneedle (PN7310 or PN7318B) and a 6" Susan Bates hoop (SB6). Weeks Dye Works floss is recommended. Designs from the Pep'r Pot - Charlotte Dudney

PN1718 $23.50 Punchneedle Embroidery instructional DVD
---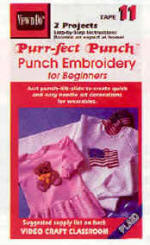 Punch Embroidery for Beginners Video
Linda Brohman - Purr-fect Punch.

Punch Embroidery for Beginners video teaches two projects (teddy bear and American flag) with step-by-step directions for needle art decorations for wearables. Learn the basic punch-lift-slide technique with quick and easy results. 60 minute VHS video.

BK-P110 $11.99

---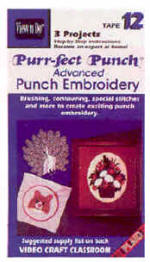 Punch Embroidery Video Advanced
Linda Brohman
Advanced Punch Embroidery video teaches brushing, contouring, special stitches and more to create exciting punch embroidery results. 3 projects. 43 minutes VHS video.

BK-P111 $11.99









---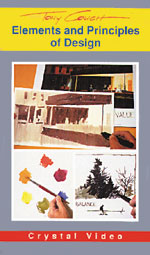 Elements and Principles of Design
Tony Couch graphically explains how the elements of design, including line, shape, value, color, texture and direction, are used to build a design. He shows how each of the principles of design, balance, harmony, gradation, repetition, contrast, dominance and unity apply to each of the elements. 47 mins.
$29.95 Elements and Principles of Design


---



SEARCH

Join Our Email Newsletter

Enter E-mail address and first name, last name into box and press Subscribe. Newsletters will not be sent out more than once a week. There will be sales and information for subscribers only.
Sunshine's Newest Book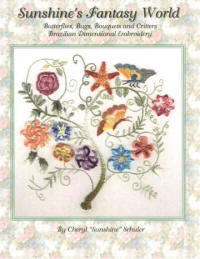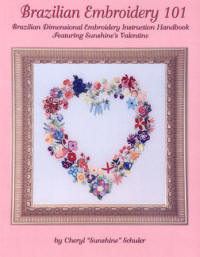 Brazilian Embroidery 101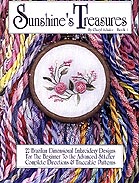 Sunshine's Treasures


♥ Thread Organizer
♥Thread Packets
♥Marvey Pen


Information
♥Thread Inventory Sheets
♥Needle Size Charts
♥Thread VS Needle Size
♥What do I need to begin?
♥Opening A Skein
♥Straightening Your Threads
♥Storing Your Threads
♥Technique "Levels
♥Knotting The Thread
♥Correct use of Hoop
♥ Gift Certificates
♥ Contact Us
♥ Printable Catalog

♥ Teachers Information
♥ Wholesale Information
♥Resources/links




Visit our totally
Dimensional site.


JDR Brazilian Elegance
Specializing in Brazilian Dimensional Embroidery but providing much more!
Striving to keep you Wrapped In Stitches!
P.O. 37, Hunter, ND 58048-0037 USA
© 1999-2015 All Rights Reserved
All JDR patterns & designs are copyrighted for JDR Brazilian Elegance.
The designs presented for any other designer on our web site are also
copyrighted by the individual designer. No part of this material/website
may be reproduced in any form, in whole or in part, by any means-mechanical, electronic, graphic, downloading, photocopying, photographing, tracing or means yet to be discovered without written permission.
Prices are subject to change with out notice
Contact Us Ordering Information Shipping Fees Terms & Payments Back Orders/Special Orders Returns