Sunshine's Fantasy World , BE 101 Book, Sunshine's Treasures Book 1, In The Beginning Book, BE Books 1, BE Books 2, Be Books 3, BE Books 4, Videos, A, B, C, C2, D, E, E2, E3, F, F 2, H,I,&J, J, L, M, N-O, P, P2, Q, R, S, S2, S4, T, T2, V, W,X,Y,Z,
Elizabethan Series, Paper Books, Punchneedle Table of Contents
Book and Videos Pages:
Sunshine's Fantasy World
BE 101 Book
Sunshine's Treasures Book 1
In The Beginning Book
BE by Delma Moore
BE Books 1
BE Books 2
Be Books 3
BE Books 4
Videos
Books "A"
Books "A" 2
Books "B"
Books "C"
Books "C" 2
Books "D"
Books "E"
Books "E" 2
Books "E" 3
Books "F"
Books "F" 2
Books "H,I,&J"
Books "J"
Books "L"
Books "M"
Books "N-O"
Books "P"
Books "P" 2
Books "Q"
Books "R"
Books "S"
Books "S" 2
Books "S" 4
Books "T"
Books "T" 2
Books "V"
Books "W,X,Y,Z"
Books "Elizabethan Series"
Paper Embroidery Books
Punchneedle Books
Main Categories

♥Table of Contents

♥JDR Brazilian
Embroidery Designs
♥Hearts and Flowers Designs
♥Quilt Sampler Designs
♥Brazilian Embroidery
Learning Kits
♥Starter Package
♥ Sunshine's Treasures


♥ Brazilian Embroidery
Guest Designers
♥Delma Moore
♥Candle In The Cellar
♥Karen Buell
♥Maria Freitas
♥Mary Kurbis
♥Debbie Kelley
♥Brandi Mikla
♥Anna Grist
♥Christmas Designs
♥Quilt Blocks


♥Threads and Ribbons
♥EdMar Threads
♥Thread Packets
♥ Sale Thread Packets
♥Kreinik
♥Japan Threads
♥YLI Candlelight
♥YLI Silk Ribbon

♥New Notions
♥ Notions and Supplies Index
♥Brazilian Embroidery Supplies
♥Tools and Gadgets
♥Tools and Needle Keepers
♥Supplies
♥Thread Organizers
♥ Embroidery Needles
♥Fabric Pens and Pencils
♥Needle Threaders
♥Hoops
♥Glues, Sprays and Cleaners
♥Cases and Totes
♥Scissors
♥Fabric
♥Magnifiers and Lights
♥Pin Cushions
♥Beading Accessories
♥Punchneedle Supplies

♥ Beads and Baubles


Brazilian Dimensional Embroidery Book
Brazilian Embroidery Instruction Handbook Featuring Sunshine's Valentine Heart
Check out the different packages for this design!
Brazilian Embroidery 101
BK-BE101 with traceable design: Sunshine's Valentine 128 pages spiral bound.
Don't have a teacher near by and you want to learn Brazilian Dimensional Embroidery? This is the ultimate instruction handbook for learning the BE techniques. Feel like "Sunshine" is sitting right there and showing you what to do every step of the way.

Or if you are a teacher - this is a great teaching tool for your classes.


$24.95 BK-BE101 Book Only with traceable heart
ISBN 0-9721428-1-9

Please have Sunshine Sign my book

---


A Bead Cornucopia
BK-B103 sale $25.00 sale

$20!!

A Bead Cornucopia

The designs completed by this talented artist and bead enthusiast cover a wide range of styles and innovative applications. The front cover is showing the " Ice Maiden " Beads are addictive and this book will help fulfill your desire to work with beads! The diagrams are large and easy to follow as you create beaded necklaces, bookmarks, collars, purses, jewelry and more, using several different beading techniques. Mill Hill beads are used the most in this book.
---


Bouquet of Ribbons
BK-B110 $10.00
Bouquet of Ribbons by Ann Snuggs
3 In Stock then discontinued These flowers and leaves are so vibrant and lush the you'll catch yourself smelling them on more than one occasion. And they're not even real! The floral designs are lovely and unlike real flowers, they'll last a lifetime. Once you learn these ten separate embroidery stitches, you'll be filling every open area you can find with awe-inspiring arrangements. Before you know it, you're working on seemingly complex designs with confidence and creativity. Striking colors burst off the pages to reveal how to make flowers baskets, birdbath pictures, as well as ornate vines twisted into letters and glorious greetings.
---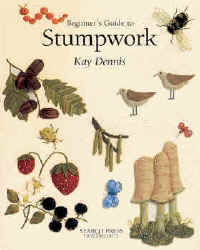 Beginning Guide to Stumpwork by Kay Dennis
80 colorful pages are filled with step-by-step instructions and illustrations showing all the techniques and methods of Stumpwork. Projects include flowing flowers, acorns, poppy seed heads, topiary, butterfly, leaf, flower, seaweed and fish, orange branch, mushrooms, foxgloves, birds and beach, heads and hands and the gardener. This is an amazing book!.
BK-B119 $18.00
---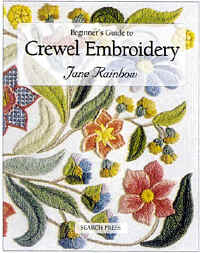 Beginner's Guide To Crewel Embroidery
by Jane Rainbow Stitch beautiful designs using 12 basic stitches all shown in clear, colored step by step photos and instructions..
BK-B120 $16.00
---
Beginner's Guide To Silk Ribbon Embroidery
by Ann Cox 48 pages of color close-up stitches and designs to embroider a garden full of flowers. Search Press.
BK-B122 $15.00
---
The Beginner's Guide to Freestyle Embroidery
Christina Marsh 128 page book is a comprehensive guide to freestyle embroidery, filled with a wealth of attractive and practical projects for you to practice your skills - samplers, ornaments, pictures and more. Easy-to-follow, step-by-step instructions with color photos and clear diagrams for individual stitches and complete projects. Softbound, 128 pages, 60 Color Photographs, 60 Two-color Illustrations
BK-B124 $17.00
---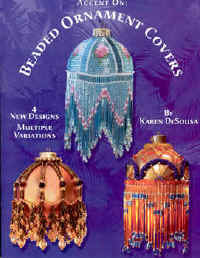 Accent on Beaded Ornament Covers book - beading Karen DeSousa
Marvelous diagrams and clear instructions to create these six fabulous beaded ornament covers. Difficulty ranges from beginner to advanced. Accent Bead -
BK-B125 $19.00
---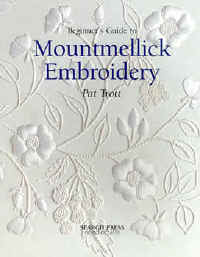 Beginner's Guide to Mountmellick Embroidery
Pat Trott This technique is stitched white on white using contrasting textures to reveal beautiful, natural designs. Thirteen different stitches are illustrated for many projects.. Search Press
BK-B126 $18.00
---
Beyond the Basics of Punch Embroidery
Linda Brohman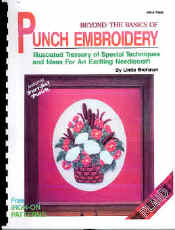 28 pages of instructions plus 16 pages of iron-on patterns. A full-color illustrated treasury of special techniques, ideas and procedures beyond the basics of punch embroidery. It includes advanced techniques such as full dimension and wedge contouring, defined and shaped brushing, over-punch and elevated punch. Also includes an in-depth section on knotting, weaving, punched needlepoint and cross stitch. Color reprint.
BK-B141 $22.00
---

The essential and comprehensive guide to beads and beading techniques

♥BK-B1908A $24.99
How Many?
---
SEARCH

Join Our Email Newsletter

Enter E-mail address and first name, last name into box and press Subscribe. Newsletters will not be sent out more than once a week. There will be sales and information for subscribers only.
Sunshine's Newest Book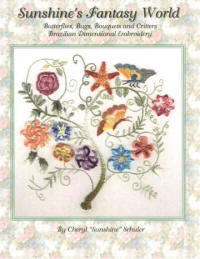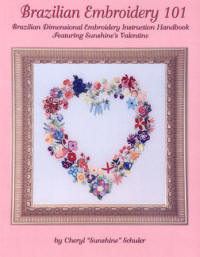 Brazilian Embroidery 101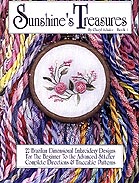 Sunshine's Treasures


♥ Thread Organizer
♥Thread Packets
♥Marvey Pen


Information
♥Thread Inventory Sheets
♥Needle Size Charts
♥Thread VS Needle Size
♥What do I need to begin?
♥Opening A Skein
♥Straightening Your Threads
♥Storing Your Threads
♥Technique "Levels
♥Knotting The Thread
♥Correct use of Hoop
♥ Gift Certificates
♥ Contact Us
♥ Printable Catalog

♥ Teachers Information
♥ Wholesale Information
♥Resources/links




Visit our totally
Dimensional site.


JDR Brazilian Elegance
Specializing in Brazilian Dimensional Embroidery but providing much more!
Striving to keep you Wrapped In Stitches!
P.O. 37, Hunter, ND 58048-0037 USA
© 1999-2015 All Rights Reserved
All JDR patterns & designs are copyrighted for JDR Brazilian Elegance.
The designs presented for any other designer on our web site are also
copyrighted by the individual designer. No part of this material/website
may be reproduced in any form, in whole or in part, by any means-mechanical, electronic, graphic, downloading, photocopying, photographing, tracing or means yet to be discovered without written permission.
Prices are subject to change with out notice
Contact Us Ordering Information Shipping Fees Terms & Payments Back Orders/Special Orders Returns