♥Table of Contents



Brazilian Embroidery Patterns and Kits


♥ JDR Brazilian Embroidery Designs
♥Hearts and Flowers Designs
♥Quilt Sampler Designs
♥Brazilian Embroidery Learning Kits
♥Starter Package
♥Sunshine's Treasures
♥Brazilian Embroidery Guest Designers
♥Christmas Designs
♥Quilt Blocks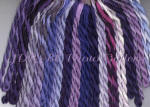 ♥Threads and Ribbons
♥EdMar Threads
♥Thread Packets
♥Kreinik
♥Japan Threads
♥YLI Candlelight
♥YLI Silk Ribbon
♥Newest Notions
♥Brazilian Embroidery Supplies
Thread organizers, apples for the EdMar design, color charts, needle packs, needle grabbers, Color Ring.
♥Tools and Gadgets
♥Tool and Needle Keepers
♥More notions and supplies
♥ Glues, Sprays and Cleaners
♥Thread Organizers
♥ Embroidery Needles
♥Needle Size Charts
♥Marking Pens and Pencils
♥Needle Threaders
♥Cases and Totes
♥Tote-A-Long Bags
♥Hoops
♥Even More Hoops
♥Scissors
♥More Scissors
♥Fabric
♥Magnifiers and Lights
♥Pin Cushions
♥ Beading Accessories
♥Punchneedle Supplies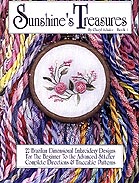 ♥Books and Videos
♥Paper Embroidery
♥Stumpwork
♥Beads and Baubles






Embroidery Needles Threaders Fabric Pens and Pencils
---
Needle Threaders - several different kinds for use with different thread weights.

We call this the
Black Beauty needle threader
. It is a good Brazilian Embroidery needle threader. It can be used for the millinery needles 1-3-5-7.
The needle threader gets a lot of abuse if you pull with just the black part of the threader. I advise putting your thumb on one side and your middle finger on the other side of the wire part of the threader. This helps to keep the wires from coming out of the black part of the threader.

Ever find it is hard to pick the threader off from the table? The black part of the threader can be bent up like an "L" shape for easier handling.

I find it is easier to thread one thread at a time through the eye of the needle. Then re-working the 2nd thread through. Double cast-ons and other stitches that require two threads can be tuff on the needle threaders - this is a great time for threading one length of thread at a time. Sunshine



Black Beauty

NT 120 Delux Needle Threaders Package of Two $1.89

---
NT107 25 Delux Needle Threaders $21.38
---
NT106 10 Delux Needle Threaders $8.98
---
---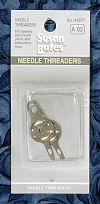 NT7072 Susan Bates Metal Needle Threaders - pkg. of 2 $1.50

Sturdy metal needle threaders won't break like the wire type.




---

Double Needle Threader

This 4.38" long threader features a standard size threader on one end and a larger size on the other. Now you can thread almost any needle with ease. A protective cap on each end extends the life of your threader. NT7087 $3.70
---

NT7305D Purr-fect Punchneedle Threaders
(package of 2) $2.75
---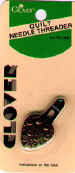 N144 Heart Pendant Threader $6.50

From Clover Needlecraft
Thread fine needles with this heart shaped threader. Fine steel wire comes with a black back plate to make the wire easily visible and threading easier. About 1"




---

DMC 3 in 1 Needle Threader

DMC 3 in 1 needle threader can accommodate both short and long eye needles, plus it has three threaders for fine, medium and heavy weight threads and yarns.
Fine wire is used for threading thin fibers, small hook for threading medium weight threads and yarns, and large hook for threading heavy yarns.


♥N7018 $1.99 Limited Supply
How Many?
---


3 Ct. Threaders protected in a clear vinyl organizer. Ultra-fine Threader for very fine needles. All-purpose Threader with Cutter for general-purpose needles. Needlework Threader with Cutter for tapestry and chenille needles.

Instructions:

Insert threader wire through needle eye. Insert thread through the needle eye. Pull threader wire back through needle eye.


♥NT7078 $7.99

How Many?


---



---

View Cart
Sunshine's Newest Book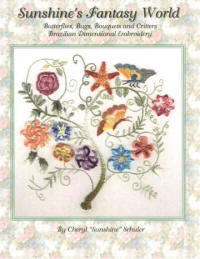 Best Sellers

♥ Thread Organizer
♥ Thread Packets
♥ Marking Pen


Information

♥Thread Inventory Sheets
♥ Thread Order Blank
♥ Needle Size Charts
♥ Thread VS Needle Size
♥What do I need to begin?
♥Opening A Skein
♥Straightening Your Threads
♥Storing Your Threads
♥Technique "Levels
♥Knotting The Thread
♥Correct use of Hoop
♥ Gift Certificates
♥ Contact Us
♥ Printable Catalog and Price sheets

♥ Teachers Information
♥ Wholesale Information
♥Resources/links

Where is JDR Brazilian Elegance?
A Little about Sunshine



Visit our totally Dimensional Embroidery site.





JDR Brazilian Elegance Specializing in Brazilian Dimensional Embroidery but providing stitchers with much more!
Striving to keep you Wrapped In Stitches!
P.O. 37, Hunter, ND 58048-0037 USA
© 1999-2015 All Rights Reserved


All JDR patterns & designs are copyrighted for JDR Brazilian Elegance. The designs presented for any other designer on our web site are also copyrighted by the individual designer. No part of this material/website may be reproduced in any form, in whole or in part, by any means-mechanical, electronic, graphic, downloading, photocopying, photographing, tracing or means yet to be discovered without written permission.
Prices are subject to change with out notice