Storing Your Threads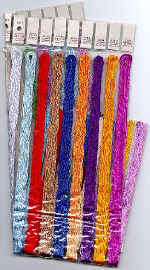 Threads can be stored in a 16 slot thread organizers, hung from the tag, placed in "Floss A-way" Bags or "Ziploc" Bags.(If you use the plastic bags - punch a small hole in the bag. It is better for your threads)
You will have to decide what is appropriate for your needs.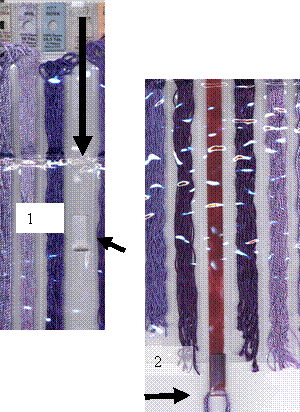 To store it in the plastic organizer, cut the knot and slide off the tag. To insert the thread into the slot, use a skein threader; a long plastic strip bent on one end or a hooked wire.
1. Insert the hook through one of the long slots (from the end where the tag holder is) until the hook comes out the bottom of the slot.
2. Fold the skein in half over the hook.
3. Pull the thread up the slot with the hook. (I colored the threader so that you could see it.)
4. Pull the skein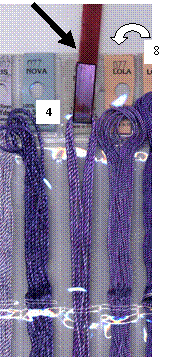 threader gently until the folded part of the thread is showing through the top of the slot near the tag holder.
5. Unhook the puller.
6. Do not pull thread further than what you see in the picture.
7. Trim the sides of the paper tag, leaving the name and color number.
8. Insert the tag into the top small slot over the thread.
Make sure threads are absolutely dry before putting them into the organizer. Wash completed embroidery only, never the skeins by themselves. Rayon threads are to be used, as they are, never split the plies.
---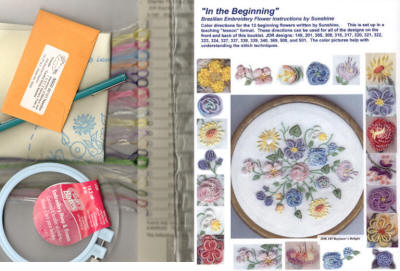 Brazilian Embroidery Starter Package