701-874-2434

We do prefer that you use the on-line shopping cart, email, fax or snail mail for ordering.
It is more accurate than phone orders and there are less problems with errors.
---
Sunshine's E-mail



---
Our retail "walk-in" store hours is by appointment only.

If you are planning to be in this area at a time other than listed above -PLEASE let us know ahead of time - the doors will be open wide for you!
---
Our office hours
9 AM to 5 PM Monday-Thursdays & most Fridays.
CENTRAL STANDARD TIME - USA

For stitch help or questions (or to just talk to Sunshine) :
Calls are forwarded to our home phone so please hold your calls until the 9 AM central standard time.
---
If you do not like to give your credit card over the internet - place your order with the on-line shopping cart, mark "other" as payment method and follow up with a call to us with the credit card numbers.
Our fax line and e-mail are always available.
If we have questions, we will call you back. Your order can be faxed or mailed (using the order blanks) or you can email us your order at the email address above. When emailing- please make sure to include your complete name, address and phone number. Also make sure that you are very specific especially with product numbers.
---
Below is some links to more information. Please take the time to read it.

Shipping Charges
Shipping Your Order
Handling/Transaction Fee
Terms& Payments
Back Orders/Special Orders
Returns

---
JDR Brazilian Elegance does not sell, rent or give its customer list to any 3rd party.
---
Credit information request forms: Credit requests from other companies for private or business, will be completed simply by stating that they are or are not a customer. The form will be completed as simply as possible. All relationship matters are held in strictest confidence. We do not give credit history or payment information to 3rd parties.
---

Thank You For Visiting Our Site!
---
SEARCH (list then press enter)

Join Our Email Newsletter

Enter your E-mail address and first name, last name into box and press Subscribe. Newsletters will not be sent out more than once a week. There will be sales and information for subscribers only.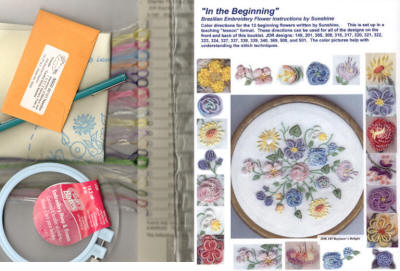 Brazilian Embroidery Starter Package $48.48 Value for $43.50