Brazilian Embroidery by
Brandie Mikla's Brazilian Embroidery
---

Brazilian Embroidery DVD
by Brandie Mikla
Raised 3-Dimensional Embroidery DVD (Brazilian embroidery)
Basic stitches and flowers are shown on this DVD of raised 3-dimensional embroidery. DVD includes 80+ page instruction book with printable flower symbols and pattern designs as well as additional reference material.
BDV 500
$25.99 How Many?
---

BM 9004

Diamond of Flowers II

$11.50
---

BM 9005

Diamond of Flowers I

$11.50
---
B
M 9030

Summer Showers

$11.50







---

BM 9031

Lee's Rose Garden

$11.50
---
BM 9032

Lee's Primrose Garden

$11.50
---
SEARCH (list then press enter)

Join Our Email Newsletter

Enter your E-mail address and first name, last name into box and press Subscribe. Newsletters will not be sent out more than once a week. There will be sales and information for subscribers only.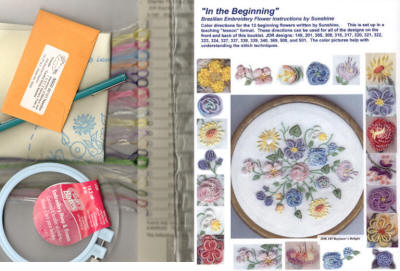 Brazilian Embroidery Starter Package $48.48 Value for $43.50