Book and Videos Pages:
Sunshine's Fantasy World
BE 101 Book
Sunshine's Treasures Book 1
In The Beginning Book
BE by Delma Moore
BE Books 1
BE Books 2
Be Books 3
BE Books 4
Videos
Books "A"
Books "A" 2
Books "B"
Books "C"
Books "C" 2
Books "D"
Books "E"
Books "E" 2
Books "E" 3
Books "F"
Books "F" 2
Books "H,I,&J"
Books "J"
Books "L"
Books "M"
Books "N-O"
Books "P"
Books "P" 2
Books "Q"
Books "R"
Books "S"
Books "S" 2
Books "S" 4
Books "T"
Books "T" 2
Books "V"
Books "W,X,Y,Z"
Books "Elizabethan Series"
Paper Embroidery Books
Punchneedle Books
Main Categories

♥Table of Contents

♥JDR Brazilian
Embroidery Designs
♥Hearts and Flowers Designs
♥Quilt Sampler Designs
♥Brazilian Embroidery
Learning Kits
♥Starter Package
♥ Sunshine's Treasures


♥ Brazilian Embroidery
Guest Designers
♥Delma Moore
♥Candle In The Cellar
♥Karen Buell
♥Maria Freitas
♥Mary Kurbis
♥Debbie Kelley
♥Brandi Mikla
♥Anna Grist
♥Christmas Designs
♥Quilt Blocks


♥Threads and Ribbons
♥EdMar Threads
♥Thread Packets
♥ Sale Thread Packets
♥Kreinik
♥Japan Threads
♥YLI Candlelight
♥YLI Silk Ribbon

♥New Notions
♥ Notions and Supplies Index
♥Brazilian Embroidery Supplies
♥Tools and Gadgets
♥Tools and Needle Keepers
♥Supplies
♥Thread Organizers
♥ Embroidery Needles
♥Fabric Pens and Pencils
♥Needle Threaders
♥Hoops
♥Glues, Sprays and Cleaners
♥Cases and Totes
♥Scissors
♥Fabric
♥Magnifiers and Lights
♥Pin Cushions
♥Beading Accessories
♥Punchneedle Supplies

♥ Beads and Baubles


The Flower Shop Brazilian Dimensional Embroidery Book with Fabric print by Cheryl Schuler "52 Flowers"

---


JDR 192 The Flower Shop Design with 30 page booklet and fabric print
Advanced Brazilian Embroidery Design
52 different Brazilian Embroidery Flowers
30 page Booklet of flower and stitch directions.
The stitcher should have the basic knowledge of Brazilian Embroidery.
This design was not meant to teach you all of the basics.
But there is a good review with diagrams of all of the stitches used in the design
20 in x 20 in
♥ JDR192 Booklet with Ecru fabric print
$24.00 How Many?
♥JDR192 Booklet with White fabric print
$24.00 How Many?

♥Full Skein EdMar Thread Packet
This is a great stash builder - It has all of the most used colors!
JDR192TP Thread Packet Only $99.00 How Many?


♥FAB20x20
Add Backing fabric to match $3.20


This is the list of all of the colors used in the sample – this is just to make it easier for you to get your threads in order.
Iris: 000, 008, 021, 034, 040, 050, 051, 053, 082, 114, 115, 116, 118, 125, 127, 134, 135, 136, 141,142, 148, 152, 154,159, 161, 167, 172, 203, 206, 216, 218, 219, 220, 224, 304
Lola: 000, 006, 027, 028, 054, 073, 111, 114, 116, 117, 119, 120, 123,124, 125, 130, 135, 141, 142, 143, 203, 218, 219, 220, 224
Boucle: 000
Cire: 004, 028
Glory: 000, 028, 082, 107, 114, 115, 116, 121, 125, 134, 135, 139, 142, 155, 204, 206, 210, 216, 218, 220, 224, 304
Specialty Threads Baubles: Various Beads, Pearls, Gold cord or Krenick or Metallic thread (034c) Blending Filament for wings, Sequin or button.


For more information about the flowers and the thread colors for each flower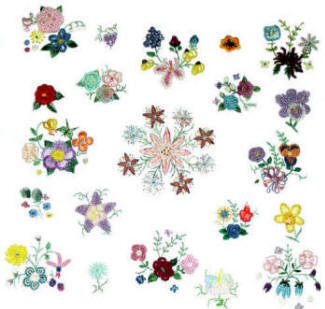 ---



SEARCH

Join Our Email Newsletter

Enter E-mail address and first name, last name into box and press Subscribe. Newsletters will not be sent out more than once a week. There will be sales and information for subscribers only.
Sunshine's Newest Book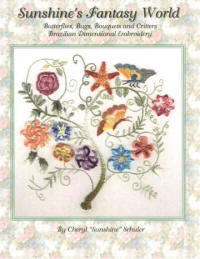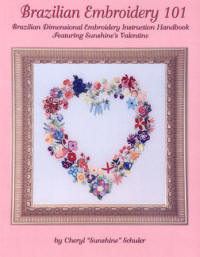 Brazilian Embroidery 101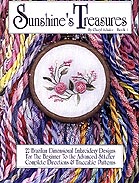 Sunshine's Treasures


♥ Thread Organizer
♥Thread Packets
♥Marvey Pen


Information
♥Thread Inventory Sheets
♥Needle Size Charts
♥Thread VS Needle Size
♥What do I need to begin?
♥Opening A Skein
♥Straightening Your Threads
♥Storing Your Threads
♥Technique "Levels
♥Knotting The Thread
♥Correct use of Hoop
♥ Gift Certificates
♥ Contact Us
♥ Printable Catalog

♥ Teachers Information
♥ Wholesale Information
♥Resources/links




Visit our totally
Dimensional site.