JDR 6428 Froggy Love
Stitching Area: 5.5" x 5.5 Registration Marks: 8" x 8" Fabric: 12" x 12" Intermediate Dimensional Brazilian Embroidery Design.

A Quilt Block can be cut perfectly from the 8" square up to the 12" fabric cut size.
The original design stitched for JDR-BE by Kathy Hammer. Directions & graphics by Sunshine.

Knowledge of basic Brazilian Embroidery stitching techniques are assumed. The following stitch techniques are used: Bullions, Stem stitch, French Knots, Blanket stitch, Cast-ons, Detached Buttonhole, Alternating Satin Stitch

Suggested Threads are listed below

♥This design package includes screen printed design on Trigger fabric (water soluble ink), directions, color picture and thread list.

♥ JDR6428 Cream Fabric
How Many? $9.00


♥ JDR6428 White Fabric
How Many? $9.00
♥Full Skein Thread Packet
19 skeins Add JDR6428 TP $36.10 Does not include gold beads or pearl
How Many?
(EdMar threads)

♥FAB15x15

Add Backing fabric to match $2.50



The following are the colors and weights of the threads used in the sample:

Iris 011, 095, 114, 313, 317

Lola 074, 106, 115, 127, 138, 158,402

Glory 000, 006, 027, 054,113, 148, 206

Necklace - 12 small gold bead with one pink pearl in the center of the gold beads.
---
---

SEARCH: type request, above, then press enter

Join Our Email Newsletter

Enter your E-mail address and first name, last name into box and press Subscribe. Newsletters will not be sent out more than once a week. There will be sales and information for subscribers only.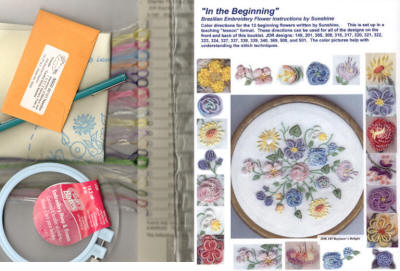 Brazilian Embroidery Starter Package $48.48 Value for $43.50