Brazilian Dimensional Embroidery Pattern:
"Delicate Beauty"
JDR 6069
Brazilian Embroidery Design: Delicate Beauty Butterfly
Intermediate Brazilian Embroidery Design

Stitching Area: 6.5" x 7.5"
Intended Finished Size: 10" x10"
Apx. Fabric Cut Size: 15 x 15"
Knowledge of basic Brazilian Embroidery stitching techniques is assumed.
Stitches used in this design: Pekinese stitch, Back stitch, Blanket stitch, Chain stitch, Straight stitch, Stem stitch, Cast-on, Bullions, Lazy Daisy, Pistil stitch, Detached buttonhole, Bullion tipped lazy daisy, French knot and just a little Turkey stitch.

♥This design package includes screen printed design on Trigger fabric (water soluble ink), directions, color picture and thread list.
I have also listed the EdMar colors at the bottom of this page.

♥JDR 6069 Delicate Beauty Butterfly
Cream

$14.50

♥JDR 6069
White

Delicate Beauty Butterfly $14.50

♥FAB20x20

Add Backing fabric to match $3.50

♥Full Skein Thread Packet

JDR6069 TP $43.70 (23 skeins of EdMar Rayon Thread)
(EdMar Threads)
Colors that were used in the sample are listed below.
Beads for this design: MHG00275 x 1 and MHG00123 x 2 ($1.30 each)

JDR6069 Bead packet $3.90
The following colors are what were used in the sample – but please feel free to choose your own colors!
Wings: Pekinese Outline stitching: Frost 097, Frost 303, and Frost 016
Body, Head & Antennas: Lola 206.
Stems & Lazy Daisy Leaves: Glory 410
Field Flowers: Lola 097, 221
Aster: Lola 323
Frilly Rose: Iris 221
Cast-on Buds: Iris 221, 017, 068, Glory 108. Iris 323, Glory 069
Cast-on Daisy Mum: Iris 017
Cast-on Flower: Iris 068
Japanese Violet: Lola 400
Japanese Violet Bud: Lola 400
5 Petal Posies: Lola 220
Dazzlers: Lola 219
Bullion Tipped Lazy Daisy: Lola 104
Bossa Nova Rose: Iris 041
Double Peony: Lola 096
Single Peony: Iris 096
Wild Rose: Glory 017, 000
Rolled Roses: Iris 054
Holly Hocks: Iris 054
Mill Hill Beads 00275
Mill Hill beads 00123 (2packages)
Beads for Centers
Quick List: Great for matching and choosing dye lots.
Frost 016, 097, 303
Iris 017, 041, 054, 068, 096, 108, 221, 323
Lola 096, 097, 104, 206, 219, 220, 221, 323, 400
Glory 000, 017, 069, 108, 410
Mill Hill Beads 00275
Mill Hill beads 00123 (2packages)
Beads for Centers
---

SEARCH: type request, above, then press enter

Join Our Email Newsletter

Enter your E-mail address and first name, last name into box and press Subscribe. Newsletters will not be sent out more than once a week. There will be sales and information for subscribers only.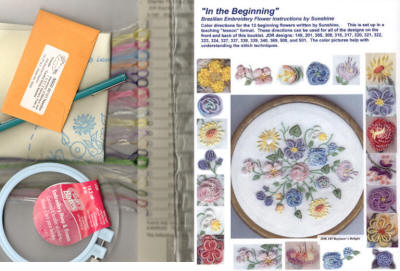 Brazilian Embroidery Starter Package $48.48 Value for $43.50