Brazilian Embroidery Design
Peacock JDR 6012


JDR 6012 The Peacock
Designed by Kathy Hammer
8 pages of COLOR
Directions and graphics by Cheryl "Sunshine" Schuler

Stitching Area: 15" x 7" Intended Finished Size: 18" x10"
Apx. Fabric Cut Size: 23" x 15"

Knowledge of advanced Brazilian Embroidery stitching techniques are assumed. Stitches used: Bullion, Cast-on, Double Cast-on Drizzle, Long & Short stitching, Blanket Stitch, Alternating Satin Stitch, Detached Buttonhole.


Directions for the following stitch techniques are included: Double cast-on drizzle, bullion site measuring.


♥This design package includes screen printed design on Trigger fabric (water soluble ink), directions, color picture and thread list.

JDR 6012 The Peacock


Choose Fabric Color
Add JDR 6012TP $53.20 Thread Packet (26 skeins of EdMar thread) Kreinik not included

Reference books for this design by Cheryl "Sunshine" Schuler
The following are a list of EdMar threads used:
Neck: Cire 103
Beak: Iris 407
Head: Cire' 103
Inner area of neck: Iris 112
The Crown: Iris 407
Eye Flare section: Iris 000, Cire 123
Eye center: Purple "Alure" bead with MH 40479 for pupil.
Belly area: Cire 103, Iris 112
Rope Vine section: Lola 059
Leaves: Lola or Iris 148
Hanging Twisty Bullions: Lola 062
Lacy Bells: Iris 40, Iris 173
Rosie Possie Blossoms: Lola 030; Lola 169 and Lola 221
Center of flowers: - assorted beads
Feather area: Elongated Rolled Roses: Lola 129
Cire 103, Lola & Iris 407, Lola & Iris 058
"Loose" feathers; Iris, Lola & Glory 112
Kreinik: 006 Blending Filament (Blue), 029 Blending Filament (Peacock Blue/green) Assorted Beads
Needles needed: 1,3 & 5 milliner and two 5" bullion needles.

---

SEARCH: type request, above, then press enter

Join Our Email Newsletter

Enter your E-mail address and first name, last name into box and press Subscribe. Newsletters will not be sent out more than once a week. There will be sales and information for subscribers only.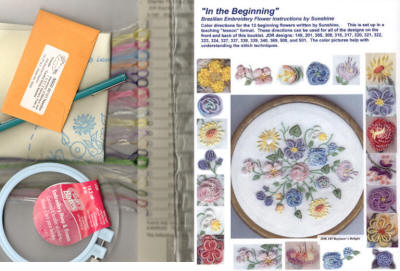 Brazilian Embroidery Starter Package $48.48 Value for $43.50