Title: Brazilian Embroidery Design: Rose Diamond

Brazilian Embroidery Design: JDR 312 Rose Diamond

Stitching Area: 11" x 14.5"
Intended Finished Size: 16" x16"
Apx. Fabric Cut Size: 20 x 20"
Beginner Brazilian Embroidery Design by Jaqueline O'Reilly.
There is a "review" of Bullions, Cast-ons, Coral Knot Stitch, Leaf Stitch, Stem Stitch and Couching included in the directions.
Also included. Straight stitch, French Knots, Pistil Stitch, Satin Stitch.
If you know the basic technique for these stitches you will need no other directions.
♥ JDR 312 Rose Diamond
Pattern Number JDR 312
Screen printed design guide on Trigger Fabric
Cream Fabric
$12.00
White Fabric
$12.00
Thread Packet # of Skeins Colored
$19.00
Thread Packet # of Skeins 11 -Cream/White Threads
$19.00
Matching Fabric 20x20 Backing
(If making a pillow)
$3.50
For this design you will need the following threads.
Please make your own color selections.
Jacqueline's Rose: Lola for the flower and Lola for the calyx.
Bossa Nova Rose: Lola for the flower Lola and Glory for the greens
Rolled Rose: Iris for the flower and Iris for the greens
Creeping Flower: Iris and Glory for the flower. Iris for the greens
Stock: Glory for the flowers and Iris for the stem.
Ribbon: Lola.
Diamond Outline: Lola.
---

SEARCH: type request, above, then press enter

Join Our Email Newsletter

Enter your E-mail address and first name, last name into box and press Subscribe. Newsletters will not be sent out more than once a week. There will be sales and information for subscribers only.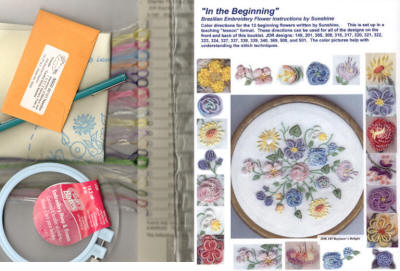 Brazilian Embroidery Starter Package $48.48 Value for $43.50