This is just a peak at my thread walls. Every day I still go in an oooooooohhhhhhhh and ahhhhhhhh over all the colors. The pictures below just do not do it justice. We are trying to get better pictures but the camera has a hard time adjusting to all of the different colors.
Each peg is 6 - 8" long. Stuffed Full! Behind most "hung threads" is a shower hook with another 30 - 60 skeins hiding.
You will notice that the top row has blank spaces. That is the Cire' row. As EdMar manufactures a new color of Cire' there is a spot waiting for it.
Right now we have 2-4 boxes of every color and every weight that is available hanging in this room.
We have one more room that looks similar to this that has walls filled like this to hold our "Thread bundles". They are set up in color groupings.
We also have a room that has thread hung waiting for the making of kits.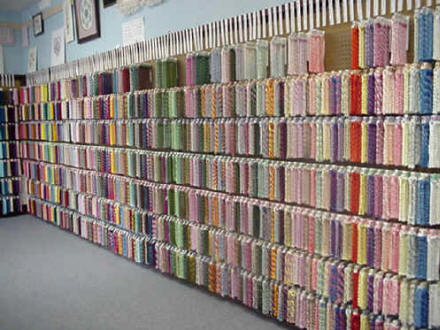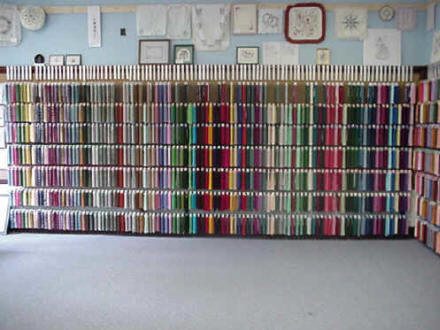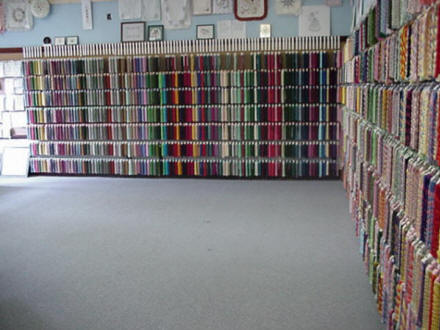 (¯`v´¯)
`*.¸.*´
¸.•´¸.•*¨) ¸.•*¨)
¸.•´ (¸.•´ .•´ ¸¸.•¨¯`•




Thread packets!



Thread Packet TP32 "Jordan's Favorites"



Thread Packet "Mint Julep" TP 29



"Strawberry Shortcake" TP 30

More Gorgeous Thread Packets



SEARCH

Join Our Email Newsletter

Enter E-mail address and first name, last name into box and press Subscribe. Newsletters will not be sent out more than once a week. There will be sales and information for subscribers only.