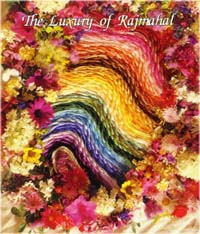 Rajmahal Art Silks Care and Uses

Rajmahal Art Silks are lustrous and versatile threads that work wonderfully for many forms of needlecraft, adding a very special finish to even the simplest of work. Rajmahal Art Silk is
wonderfully suited to needlework of all types, including Brazilian, Stumpwork, crewelwork, miniature embroidery, petit point, cross stitch, Goldwork, sadi, shisha, canvas work, silk ribbon, Hardanger, Whitework, smocking, lace-making, tassel and fringes, braiding, weaving.

$1.79 per skein
---
The thread is 6 stranded, 65% viscose rayon, 35% silk floss. It comes in 8 meters/ 8.75 yard skeins.
---
Rajmahal Art Silks are dyed so that shades are complementary to provide perfect shading. Colors range from the very rich and exotic, to delicate subtle pastels, on to the complex and deep renaissance shades. The numbers given on the Shade Card indicate related shades. For example, the very rich Imperial Purple (115) has been taken back 2 shades to become Purple Dusk (113) which is then cooled a further 2 shades to reach Dainty Lilac (111).
---
Using Rajmahal is very similar to using other threads. The difference is in the special finish you'll achieve! To ensure that you achieve maximum success, please read these handling tips.
---
How To Use Rajmahal Art Silk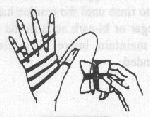 Winding
It is best to wind your skeins onto a card or spool prior to use. Remove label, cut the knot while holding thread at the knot, then open skein out. Loop skein over thumb, then take the end of the skein and wind it thread around the hand, finishing with top over forefinger as in the diagram. Wind thread from your hand to the card or spool.
Separating
If using less than 6 strands, separate strands singly after cutting desired length. Take the end of the strand in one hand, holding the other strands together with your spare hand. Pull a single strand straight up from the bunch. Repeat until you have removed the desired number of strands. It is preferable to work with, rather than against, the grain or "twist" of the thread.
Perfect Knots & Bullions
The shine of Art Silk makes French Knots & Bullions simple to work, as the thread slides easily off the needle
Successful Stitching with Rajmahal Art Silks
Art Silks can seem a little "springy" if you are used to working with wool or cotton. If you are noticing the "bounce" you can "calm" the thread by:
*Passing the thread through an anti-static clothes dryer sheet
*Running slightly damp cotton wool along strands just prior to use.
*Pass thread lightly through beeswax (good for additional strength when using Art Silks in conjunction with metallic, shisha or sadi.
*Spray thread lightly with spray starch Use the correct number of strands required for the work you are doing appropriate to the fabric you are using. And choose the appropriate needle!

Aftercare
We recommend dry cleaning for the optimum care and continued luster of your embroidery. To press your embroidery after completion, place embroidery face down, with the right side on a towel. Press carefully on the wrong side being careful not actually press your stitching. Smooth the surrounding fabric. Due to changes in anti-pollution laws, certain dye-setting agents can no longer be used. This means it is more difficult to set dyes. If slight "bleeding" occur, simply continue to rinse with cool water until all residue has gone. A little bi-carb soda or vinegar helps in final rinse to maintain luster.





Thread packets!



Thread Packet TP32 "Jordan's Favorites"



Thread Packet "Mint Julep" TP 29



"Strawberry Shortcake" TP 30

More Gorgeous Thread Packets



SEARCH

Join Our Email Newsletter

Enter E-mail address and first name, last name into box and press Subscribe. Newsletters will not be sent out more than once a week. There will be sales and information for subscribers only.