♥Table of Contents
♥ JDR Brazilian Embroidery Designs
♥Hearts and Flowers Designs
♥Quilt Sampler Designs
♥Brazilian Embroidery Learning Kits
♥Starter Package
♥Sunshine's Treasures
♥Brazilian Embroidery Guest Designers
♥Christmas Designs

♥Notions and Supplies Index
♥Brazilian Embroidery Supplies
♥Tools and Gadgets
♥Tool and Needle Keepers
♥Supplies
♥Thread Organizers
♥ Embroidery Needles
♥Fabric Pens and Pencils
♥Needle Threaders
♥Hoops
♥ Glues, Sprays & Cleaners
♥Cases and Totes
♥Scissors
♥Fabric
♥Magnifiers and Lights
♥Pin Cushions
♥Beading Accessories
♥Punchneedle Supplies

♥Books and Videos

♥Paper Embroidery

♥Stumpwork

♥Beads and Baubles
The scanned skeins of thread are the dye lot as of picture day only. Be advised to order plenty of the color you need. The next dyelot may be different. We can not guarantee exact color matching to the pictures shown here. Your monitor may show a variation or the dyelots may have changed.
Enter quantities in each of the squares. Once you have chosen how many of each weight of that particular color click the "Add Now" button.

EdMars New suggested retail as of 06-01-2015

Lola, Nova, Boucle, Frost & Cire: $1.90
Iris and Glory: $1.90



Color Name

Type

Nova
Boucle
Lola
Cire
Frost
Iris
Glory
$1.90
$1.90
$1.90
$1.90
$1.90
$1.90

$1.90



110
Lt /Very Dark / Med Olive Green Shaded

Nova
Boucle
Lola
Cire
Frost
Iris
Glory
110


111
Baby Blue
SOLID
Nova
Boucle
Lola
NA
Frost
Iris
Glory
111


112
Azure Blue (Light Sky Blue)
SOLID
Nova
Boucle
Lola
NA
Frost
Iris
Glory
112
112
112
112
112
112
112


113
Bright Yellow
SOLID
Nova
Boucle
Lola
New
Cire
Frost
Iris
Glory
113
113

113
113
|
113
113
113


114
Light Yellow
SOLID
Nova
Boucle
Lola
Cire
Frost
Iris
Glory
114
114
114
114
114
114
114
114


115
Salmon
SOLID
Nova
Boucle
Lola
Cire
Frost
Iris
Glory
115
115

115
115
115
115
115
115


116
Light Antique Rose
SOLID
Nova
Boucle
Lola
Cire
Frost
Iris
Glory
116
116

116
116
116
116
116
116


117
Violet / Very Dark Periwinkle
SOLID
Nova
Boucle
Lola
Cire
Frost
Iris
Glory
117
117

117
117
117
117
117
117


118
Apricot
SOLID
Nova
Boucle
Lola
Cire
Frost
Iris
Glory
118
118

118
118
118
118
118
118


119
Peach
SOLID
Nova
Boucle
Lola
Cire
Frost
Iris
Glory
119
119
119
119
119
119
119
119






Thread packets!



Thread Packet TP32 "Jordan's Favorites"



Thread Packet "Mint Julep" TP 29



"Strawberry Shortcake" TP 30

More Gorgeous Thread Packets



SEARCH

Join Our Email Newsletter

Enter E-mail address and first name, last name into box and press Subscribe. Newsletters will not be sent out more than once a week. There will be sales and information for subscribers only.


View Cart
Sunshine's Newest Book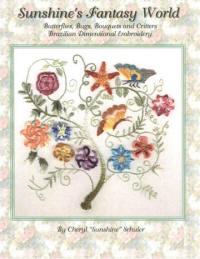 Metallic Thread Use and Care
Best Sellers

♥Thread Organizer
♥Thread Packets
♥Brazilian Embroidery 101 Book
♥Marking Pen

Information
Thread Inventory Sheets
♥Thread VS Needle Size
♥What do I need to begin?
♥Opening A Skein
♥Straightening Your Threads
♥Storing Your Threads
♥Technique "Levels
♥Knotting The Thread
♥Correct use of Hoop
♥ Gift Certificates
♥ Contact Us
♥ Printable Catalog and Price sheets

♥ Teachers Information
♥ Wholesale Information
♥Resources/links



Just Peachy





Visit our totally Dimensional site.






JDR Brazilian Elegance Specializing in Brazilian Dimensional Embroidery but providing stitchers with much more!
Striving to keep you Wrapped In Stitches!
P.O. 37, Hunter, ND 58048-0037
© 1999-2015 All Rights Reserved


All JDR patterns & designs are copyrighted for JDR Brazilian Elegance. The designs presented for any other designer on our web site are also copyrighted by the individual designer. No part of this material/website may be reproduced in any form, in whole or in part, by any means-mechanical, electronic, graphic, downloading, photocopying, photographing, tracing or means yet to be discovered without written permission.
Prices are subject to change with out notice