♥ Table of Contents
♥ JDR-BE Newest
Designs
♥ JDR Brazilian
Embroidery Designs
and Kits

♥JDR 6219 - 6600 Gallery 9
♥JDR 6079-6214 Gallery 8
♥JDR 6029-6078 Gallery 7
♥JDR 391-6034 Gallery 6
♥JDR 352-390 Gallery 5
♥JDR 309-351 Galley 4
♥JDR 171-196 Gallery 3
♥JDR 137-170 Gallery 2
♥JDR 100-136 Gallery 1

♥Hearts and Flowers
Designs 2 3 4

♥Quilt Sampler Designs

♥Brazilian Embroidery
Learning Kits

♥Starter Package

♥Sunshine's Treasures
♥ Brazilian Embroidery
Guest Designers

♥Delma Moore
♥Candle In The Cellar
♥Karen Buell
♥Maria Freitas EdMar
♥Mary Kurbis
♥Debbie Kelley
♥Brandi Mikla
♥Anna Grist
♥Christmas Designs
♥Quilt Blocks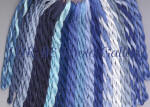 ♥Threads & Ribbons
♥EdMar Threads
♥Thread Packets
♥YLI Silk Ribbon
♥Kreinik Metallic
♥Japan Threads
♥YLI Candlelight
♥Rajmahal Art Silk
♥Faceted Metallic Thread
♥Specialty - Metallic
NEWEST ITEMS

♥Notions & Supplies Index
♥Brazilian Embroidery
Supplies
♥Tools and Gadgets
♥ Tool & Needle Keepers
♥More Supplies
♥Thread Organizers
♥ Embroidery Needles
♥Fabric Pens & Pencils
♥Needle Threaders
♥Hoops
♥ Glues, Sprays & Cleaners
♥Stitching Cases & Totes
♥Scissors
♥Fabric
♥Magnifiers and Lights
♥Pin Cushions
♥Beading Accessories
♥Punchneedle Supplies

♥Books and Videos

♥Paper Embroidery

♥Stumpwork

♥Beads and Baubles
This Area Home



Brazilian Embroidery Design
Miss Pensive JDR 6032

JDR 6032 Miss Pensive

Brazilian Embroidery Design Miss Pensive was the original name for this design. It was inspired from an antique design. You can almost feel the `pensive` atmosphere as she contemplates amongst her favorite setting: surrounded by beautiful dimensional embroidery flowers. Appearance and challenge level is changed simply by changing the flowers to suit your artistic desires, whether the flowers be embroidered or beads/rhinestones, etc.

Suitable for framing, pillow, or adorning your favorite clothing.
Stitch Area 10" x 9"
Registration Marks: 15" x 15"
Fabric Size: 20" x 20"
Level: Intermediate

Original Design By Pat Swabe Directions and graphics by Sunshine Re-stitched piece from Kathy Hammer & Sunshine.

Stitches Used in this design: Bullion, Cast-on, Detached Chain, French knots, Blanket stitches, chain stitches, Pistil stitch, stem stitch, Lazy Daisy stitch, Couching, Detached buttonhole, twisted detached buttonhole, Double cast-ons over needles. There is a pictorial and simplified directions for the detached chain and the twisted detached buttonhole stitch included.
All other stitch directions can be found in the following suggested reference books: "Brazilian Embroidery 101" by Sunshine, JDR Brazilian Embroidery by Ria Ferrell, Sunshine's Treasures, Book 1 by Cheryl "Sunshine" Schuler if you need a refresher.

♥This design package includes screen printed design on Trigger fabric (water soluble ink), COLOR directions, color picture and thread list.

♥JDR 6032 Miss Lady Pensive Ecru $13.00
How Many?

♥JDR 6032 Miss Pensive White $13.00
How Many?
♥JDR 6032 TP Thread Packet (28 skeins) $53.20
How Many thread packets? (Thread list below)
♥FAB20x20 Add Backing fabric to match $3.50


Suggested EdMar Threads
Dress & Bow: Iris 139
Features: Glory 407, Face: Glory 130, Mouth: Glory 115
Hair: Boucle 407 – skeins; Glory & Nova 407.
Greenery: Iris 040, Iris 024, Iris 403, 095
Wrought Iron Plant Stand & Chain 002 or 088
Netting: Iris 126
Gypsy Bud: Iris 069, Iris 115
Wild Rose: Iris 054 Iris 108
Wild Morning Glory: Iris 208 & Glory 107, Lola 116 & Iris 116
Hybrid Shasta Daisy: Lola 013, Iris 116
Double Peony: Lola 111, Iris 170. Center: Iris 069
San Diego Poinsettia: Lola 157 & 221 Center: Iris 015
Posies: Iris 015, Iris 115. Center: Iris 108

Below- Original colorway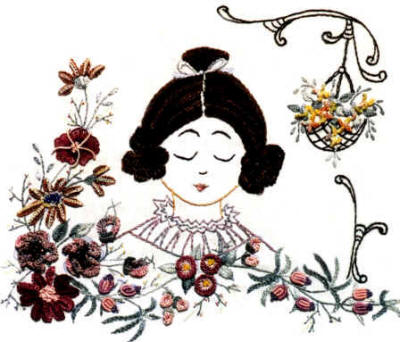 ---

SEARCH: type request, above, then press enter

Join Our Email Newsletter

Enter your E-mail address and first name, last name into box and press Subscribe. Newsletters will not be sent out more than once a week. There will be sales and information for subscribers only.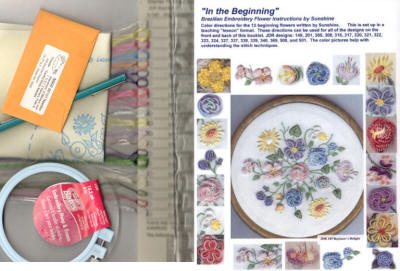 Brazilian Embroidery Starter Package $48.48 Value for $43.50

What's in my cart?
Sunshine's Newest Book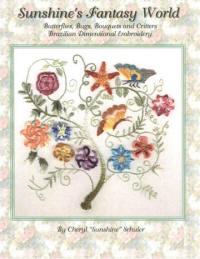 Pattern Sales index

Best Sellers

Information
♥ Thread Inventory Sheets
♥ Thread Wish/Order Sheets
♥ Needle Size Charts
♥ Thread VS Needle Size
♥ Laundering Information
♥ What do I need to begin?
♥ Opening A Skein
♥ Straightening Your Threads
♥ Storing Your Threads
♥ Technique "Levels"
♥ Knotting The Thread
♥ Correct use of Hoop
♥ Gift Certificates

♥ Contact Us
♥ Printable Catalog
♥Printable Retail Price sheets
♥ Teachers Information
♥ Wholesale Information

Where is JDR Brazilian
Elegance?
A Little about
Sunshine

♥Resources/links

Visit our totally
Dimensional site.
Fun2Stitch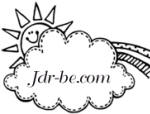 JDR Brazilian Elegance
Specializing in Brazilian Embroidery but providing stitchers with much more!
© 1999-2015 All Rights Reserved

All JDR patterns & designs are copyrighted for JDR Brazilian Elegance. The design s presented for any other designer on our web site are also copyrighted by the individual designer. No part of this material/website may be reproduced in any form, in whole or in part, by any means-mechanical, electronic, graphic, downloading, photocopying, photographing, tracing or means yet to be discovered without written permission.
Prices are subject to change with out notice