Title: JDR 6031 Brazilian Embroidery Pattern Teddy Bear for Jayne
Brazilian Embroidery Pattern Teddy Bear for Jayne
JDR 6031 Advanced Beginners Brazilian Embroidery Design

8" x 8" Intended Finished size: 11" x 11" . Approximate Fabric Cut Size 15" x 15". Thank You Maria RedElk for this picture! >>

Original Design by Pat Swabe. Graphics and Directions by Sunshine . The new stitched sample (above) was stitched by Maria RedElk.

The colors and directions are based on the stitched piece by Maria.

Suggested Thread weights and colors:
5 petal Daisy: Maria used 20 Flower Beads (Alternate: Iris Blue).
Bear: Lola 059 Chocolate.
Cast-On Mum: Lola 070 Purple.
Bows: Frost 404 Pink (Alternate – Iris).
Sterling Roses: Lola 400 Yellow.
Peony: Nova 219 Periwinkle.
Continuing Peach Blossom: Boucle 104 ( Alternate: Lola)
Queen Anne's Lace: Lola 135 Pink
Greens: Iris 410

Stitches Used in this design: Coral Knot stitch (directions included), Stem stitch, Cast-on stitch, Bullions, Straight stitch, Detached buttonhole stitch, Satin stitch, Alternating satin stitch, French knots, Lazy daisy stitch, couching.

If you know these stitches you will succeed with this pattern.

A special note from Sunshine: Jayne is a very special niece that sends me pictures of her new pigtails and always has a smile for me.

♥JDR 6031 Teddy Bear for Jayne



Choose Fabric Color


♥Full Skein Thread Packet

Add JDR6031TP $22.80 (12 skeins)






---

SEARCH: type request, above, then press enter

Join Our Email Newsletter

Enter your E-mail address and first name, last name into box and press Subscribe. Newsletters will not be sent out more than once a week. There will be sales and information for subscribers only.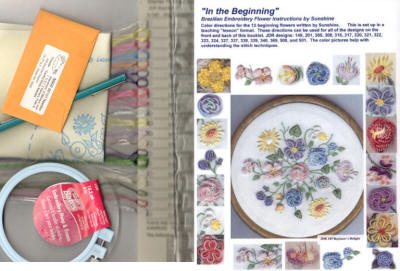 Brazilian Embroidery Starter Package $48.48 Value for $43.50