Title: JDR 500 Ellen's Baskets Brazilian Embroidery Pattern
Beginner Level

JDR 500 Ellen's Baskets
Stitching area: 13" x 13"
Intended Pillow Size: 16" x 16"
Fabric Cut Size 20" x 20"
Pillow Brazilian Embroidery Design by Ellen Mierop
This design it a "Print Only"
It is meant to go with the book JDR Brazilian Embroidery Book 1 by Ria Ferrell. (BK-J101 $8.95)
If you have the availability of a beginner's book, there is a guide included for the flower symbols.
The sample was made in these colors:.
Cross-Needle Hydrangea: Boucle` 146, Lola 008.
Creeping Flower: Iris 136, Glory 116.
Gerone Daisy: Lola 086, Lola 114.
Lazy Daisy: Iris 086, Lola 008.
Rolled Rose: Iris 143.
Peach Blossom: Nova 006, Glory 116.
Bossa Nova Rose: Lola 141.
Cast-on Flower: Lola 147, Lola 008.
Japanese Violet: Lola 220 Pearls.
Greens : Lola 040, 045, 051, Iris 110, 151, Glory 045, 049.
Baskets: Lola 081
To see the beginner kits that have each flower in a separate design go to Beginner Kits
♥JDR 500 Ellen's Baskets
Pattern Number JDR 500
Screen printed design guide on Trigger Fabric
Cream Fabric
$11.00
White Fabric
$11.00
Black Fabric
$13.00
Thread Packet # of Skeins 20
$38.00
Matching Fabric 20x20 Backing
(If making a pillow)
$3.50
"In the Beginning" Book by Cheryl Schuler - Flower and stitch directions for this design (Color and Spiral Bound)
$11.99
JDR Brazilian Embroidery Book 1 by Ria Ferrell Black & White Beginner Book
$8.95
Search Tags: Beginning pattern, JDR500, JDR 500, Ellens Baskets, Ellen's Basket,
---
---

SEARCH: type request, above, then press enter

Join Our Email Newsletter

Enter your E-mail address and first name, last name into box and press Subscribe. Newsletters will not be sent out more than once a week. There will be sales and information for subscribers only.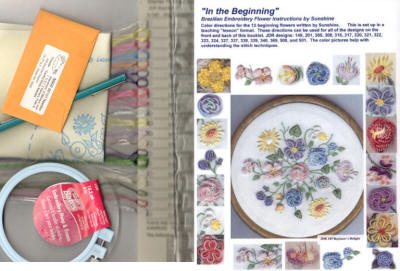 Brazilian Embroidery Starter Package $48.48 Value for $43.50