Brazilian Embroidery Design
My Garden Friends JDR 399


JDR 399 The My Garden Friends
Designed by Dexie Smith
Directions and graphics by Cheryl "Sunshine" Schuler
Stitching Area: 8.5" x 12" Intended Finished Size: 14" x18"
Apx. Fabric Cut Size: 22" x 20"
Knowledge of advanced Brazilian Embroidery stitching techniques are assumed.
Stitches used in this design: Straight stitch, alternating satin stitch, stem stitch, satin stitch, cast-on, bullions, detached buttonhole, double cast-ons, double cast-ons over needles, bullion tipped lazy daisy. Knowledge of these stitch techniques is assumed. Directions for the design elements are included.


♥This design package includes screen printed design on Trigger fabric (water soluble ink), directions, color picture and thread list.


♥ JDR 399 The My Garden Friends
Pattern Number JDR 399
Screen printed design guide on Trigger Fabric
Cream Fabric
$16.50
White Fabric
$16.50
Thread Packet # of Skeins 26
$49.40
Reference books for this design by Cheryl "Sunshine" Schuler
Needles needed: 1,3 & 5 milliner
Greens: Iris 051, Iris 304 and Iris 161.
Flumes: Cire 000
Border Oval: Cire 000.
Rolled Roses: Iris 098, Iris 051
Rolled Rose Buds: Iris 098, Iris 000, Iris 051,Leaves Iris 161.
Creeping Flowers: Iris 135, Iris146, Iris 051
Bullion Daisy & Bud: Lola 028, Center: Lola 135,
Greens: Iris 051 & Iris 161)
Dew Drops: (Iris 112, Pistils: Glory 000; Calyx: Iris 051; Stems: Iris 161)
Wild Rose Flower and Bud: (Lola 136, Center: Cire 000, Calyx: Iris 051)
Lill's Windmill Flower (Lola 141 & Iris 000)
Tole Rose: (146 Lola & Iris 146; Iris 147; Glory 000
Fuchsia: Lola 142 and Lola 143, Glory 000 or Glory 218, Iris 051
Ribbon Rose: Lola 125 – Center Lola 212, Lola 136 – Center Lola 328
Linda's Gardenia: Center: Lola 307; Iris 090; Lola 135)
Babies Breath: Lola 000
Search Tags: JDR399, JDR 399, Garden of Friends, Embroidered Picture, Dexie Smith, Advanced Brazilian Embroidery, My Garden
---

SEARCH: type request, above, then press enter

Join Our Email Newsletter

Enter your E-mail address and first name, last name into box and press Subscribe. Newsletters will not be sent out more than once a week. There will be sales and information for subscribers only.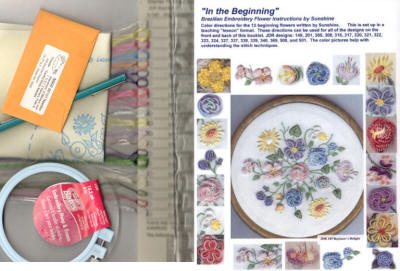 Brazilian Embroidery Starter Package $48.48 Value for $43.50