Brazilian Dimensional Embroidery Design "LOVE"



JDR 6300 LOVE
A beginning Brazilian Embroidery design that all stitchers would enjoy doing! Planning the placement of the shaded thread is the fun part of this design.
3" X 10" stitching area.
Suggested Mat opening size: 7" x 14".
Registration Marks: 9" x 16" Fabric: 12" x 20"
♥This design package includes screen printed design on Trigger fabric (water soluble ink), directions, color picture and thread list.
♥ JDR6300 Love
Pattern Number JDR6300
Screen printed design guide on Trigger Fabric
Cream Fabric
$9.00
White Fabric
$9.00
EdMar Thread Packet # of Skeins 7
$13.30
---



Order of Stitching: Weeping leaves, Letters, Stems, Angel Petals, French knot calyx, Bossa Nova Roses, Field flowers

Stitches Used: Outline stitch, Alternating Satin Stitch, Chain Stitch, French Knots, Bullions.

Suggested Colors: Colors and weights of EdMar threads used in the sample.

Iris: 006 – 2 skeins, one of 216, 311, 406. Lola 400. Glory 006

Please feel free to choose your own colors!

Needles Used: #1 Milliner – Lola; #5 Milliner –Iris
#7 Milliner - Glory
---

SEARCH: type request, above, then press enter

Join Our Email Newsletter

Enter your E-mail address and first name, last name into box and press Subscribe. Newsletters will not be sent out more than once a week. There will be sales and information for subscribers only.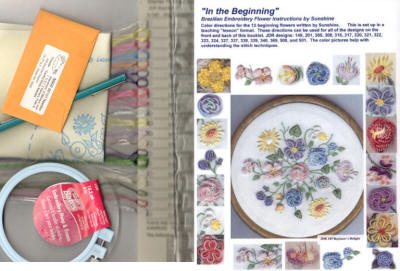 Brazilian Embroidery Starter Package $48.48 Value for $43.50