Brazilian Embroidery Pattern
JDR 6019 Carousel Horse
Intermediate Brazilian Embroidery
Design Size: 7 x 10
Approximate Fabric Cut Size 15" x 15".
Original Design by Pat Swabe
Directions and graphics by Sunshine
New stitched sample by Maria RedElk.

Stitches Used in this design:
Coral Stitch, Stem Stitch, Outline stitch, Couching stitch, Alternating Satin Stitch, Bullions, Cast-on stitch, Blanket Stitch, Running Bullion, One row of detached Buttonhole stitch, Chain stitch.
If you have the basic knowledge of the stitches, the directions tell you how to make the elements of the design.
Suggested Thread weights and colors:
Mane & Tail: Iris 059
Horse body: Iris 315
Hoofs: Gold Candlelight
Horse blanket: Boucle 085
Buckle and halter: Iris 210
Saddle: Iris 128
Leaves and greenery: Iris 410
Stand: Candlelight Gold (Iris 401 works well for the gold)
Pole: Candlelight Gold or your favorite metallic thread
Ribbon: YLI Candlelight Lavender or Lola 125
Chrysanthemum: Lola 129
Lazy Daisy or Double Knot Lazy Daisy: Nova 408
Prairie Rose: Lola 404
Blanket stitch daisy: Glory 125
Vinca Buds: Lola 400
Fancy Bossa Nova Rose: Lola 135 & 018
Side View Frilly Rose: Glory 112 Lola 111
Meadow Daisy Lola 082

♥JDR 6019 Carousel Horse



Choose fabric color
♥Full Skein Thread Packet
Add JDR 6019TP 17 Skeins $ 32.30
EdMar threads are substituted for the Candlelight in this thread packet.
♥YLI Candlelight Lavender
Add YLI Candlelight Lavender $6.50

♥Candlelight Gold
Add YLI Candlelight Gold $6.50



---

SEARCH: type request, above, then press enter

Join Our Email Newsletter

Enter your E-mail address and first name, last name into box and press Subscribe. Newsletters will not be sent out more than once a week. There will be sales and information for subscribers only.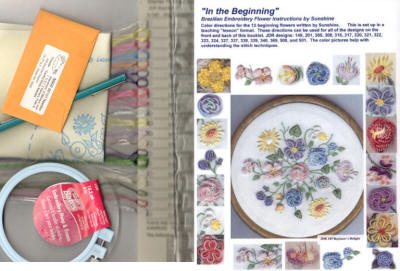 Brazilian Embroidery Starter Package $48.48 Value for $43.50