Brazilian Embroidery Pattern
The Cross of Hope JDR 6014
Intermediate Brazilian Embroidery

7.5" x 10.5"- Design Size
Intended Finished size: 10" x 13"
Approximate Fabric Cut Size 15" x 18"

Stitches Used in this design:
Cast-On Stitches, Bullions, Knotted Lazy Daisy, Alternating Satin Stitch, Stem stitch, Couching, Double Cast-on Stitch, Pistil stitch, French Knots.
You should have the basic knowledge of how to do these stitches.
I HAVE PROVIDED STITCH REVIEWS FOR THE STITCHES USED IN THIS DESIGN.

The directions tell you how to use the stitches to make these flowers
JDR6014 The Cross of Hope

Choose Fabric Color
Full Skein (6) Thread Packet
NO METALLIC thread is included.



Click on square to also choose JDR6014TP $11.40


Candlelight Gold/Silver


Click on square to also choose Candlelight Gold/Silver $6.50




Suggested Thread weights and colors for the top picture done by Maria RedElk:
Fuchsia & Fuchsia Buds: Frost or Lola 125
Tricia's Daisy & Buds: Iris 117
Cast-On Rose & Buds: Iris 314
Rolled Rose Buds: Frost 125
Full Bloom Knotted Lazy Daisy & Bud: Iris 077
Cross & Fleur-de-lis: Lola/Iris or Metallic thread. (Maria - top picture-used Candlelight Gold/Silver)
Greenery: Iris 403
---

SEARCH: type request, above, then press enter

Join Our Email Newsletter

Enter your E-mail address and first name, last name into box and press Subscribe. Newsletters will not be sent out more than once a week. There will be sales and information for subscribers only.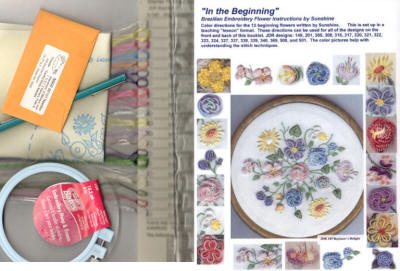 Brazilian Embroidery Starter Package $48.48 Value for $43.50