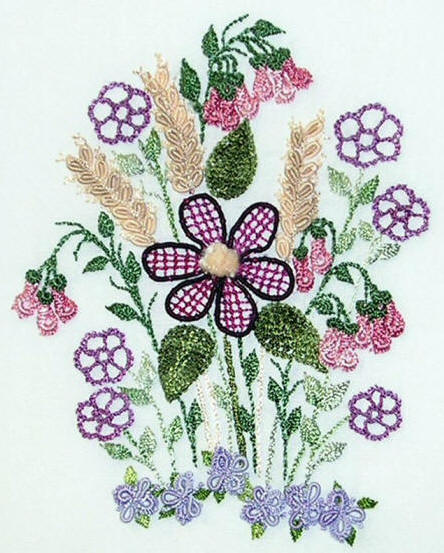 Laurel & Wheat Brazilian Embroidery Pattern by Anna Grist using EdMar rayon threads to stitch the design.
This is really an easy design to do, but it is listed as Advanced because it has a bullion with over 60 wraps.

It could be used as another quilt block or just as a picture. It has 2 new flowers.
The flowers in this design are filling laid work blossom, wheat, laurel, chain stitch flower and a Crazy Eight, and an English-style detached buttonhole stitch leaf.

Stitches used are bullion, couching, cast-on French knot and stem stitch.

Design: 5" x 6" on 14" x 15" fabric.
Includes printed fabric, instruction sheet, color chart, color picture.

AG4141 Laurel and Wheat by Anna Grist $10.00

AG4141 Cream fabric
$10.00 How many?
AG4141 White fabric
$10.00 How many?
AG4141 Thread Packet (9 skeins)
$12.60 How many?



EdMar thread needed:: One full skein of Iris 029, 050, 085, 121, 168, 171, 216, 305, 316..




Floral Bouquet

Frame-able Design
---




SEARCH




Join Our Email Newsletter

Enter E-mail address and first name, last name into box and press Subscribe. Newsletters will not be sent out more than once a week. There will be sales and information for subscribers only.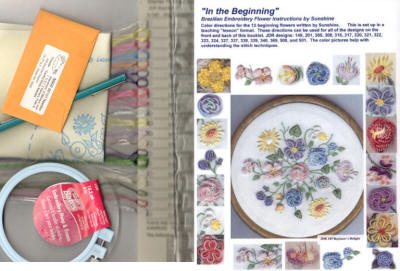 Brazilian Embroidery Starter Package