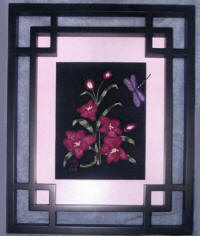 Asian Lace Lily- Brazilian Embroidery Lace Art by Debra Goff.
This kit contains a silk screened printed design, fused blue-shaded Organza and Mauve sheer fabric, 30-gauge purple wire for dragonfly, 28 gauge wire for stumpwork, specialty threads, assorted beads and complete directions. Design area 8" x 9".
Suggested EdMar threads that are required for completing the design.
Nova 049
Iris 134, 135 - 2 skeins, 172, 410
Lola 135
Glory 172, 217
DG0001 Design Packet $20.00
Brazilian Embroidery Design
Imprimis Iris


MRJ3903 $10.00
Advanced Level
Design: 2 1/8" x 4 5/8" Fabric: 11" x 12 1/2"
Floss Used: Glory 077, 309 Lola 098, 221, 216 Nova 216 Cire 211 Stitches used: Bullion, Double Stem Stitch, Stacked Stem, Detached Satin Stitch, Detached Buttonhole, Blanket Stitch
Brazilian Embroidery Design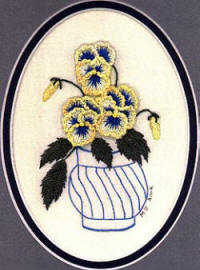 Antique Pansies

Beginner/Intermediate Level Brazilian Embroidery Design
Design: 3 1/4 " x 5" Fabric: 12 1/2" x 11"

Floss Used: Glory 123, 105 Iris 167, 201
Lola 008, 400 Nova 114

Stitches Used: Double Stem Stitch, Stem Stitch, Alternating Satin stitch, Colonial Knot, Cast-on, Straight Stitch, Bullion, Detached Buttonhole.
MRJ 3905 $10 enter quantity