♥Table of Contents



Brazilian Embroidery Patterns and Kits


♥ JDR Brazilian Embroidery Designs
♥Hearts and Flowers Designs
♥Quilt Sampler Designs
♥Brazilian Embroidery Learning Kits
♥Starter Package
♥Sunshine's Treasures
♥Brazilian Embroidery Guest Designers
♥Christmas Designs
♥Quilt Blocks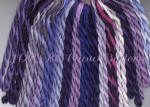 ♥Threads and Ribbons
♥EdMar Threads
♥Thread Packets
♥Kreinik
♥Japan Threads
♥YLI Candlelight
♥YLI Silk Ribbon
♥Newest Notions
♥Brazilian Embroidery Supplies
Thread organizers, apples for the EdMar design, color charts, needle packs, needle grabbers, Color Ring.
♥Tools and Gadgets
♥Tool and Needle Keepers
♥More notions and supplies
♥ Glues, Sprays and Cleaners
♥Thread Organizers
♥ Embroidery Needles
♥Needle Size Charts
♥Marking Pens and Pencils
♥Needle Threaders
♥Cases and Totes
♥Tote-A-Long Bags
♥Hoops
♥Even More Hoops
♥Scissors
♥More Scissors
♥Fabric
♥Magnifiers and Lights
♥Pin Cushions
♥ Beading Accessories
♥Punchneedle Supplies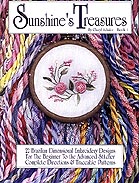 ♥Books and Videos
♥Paper Embroidery
♥Stumpwork
♥Beads and Baubles



Annie's Keeper Organizing System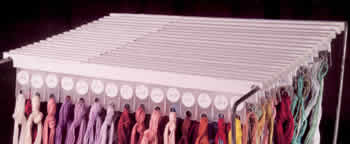 Annie's Thread Keepers Storage Pack

Storage Pack includes 300 Annie's Thread Keepers with labels and 20 Storage Slides with hooks.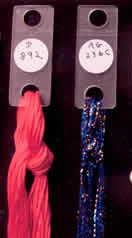 Annie's Thread Keepers are a comprehensive system of floss and fiber management.
Simply cut thread to desired working length and insert it in the bottom hole of the sturdy acrylic 3/4" x 1-7/8" Annie's Thread Keeper.
A loose knot will hold the floss securely in the Annie's Thread Keeper yet allow you to pull out your next strand without unknotting the thread. Use the round adhesive label to write the color number and stick it on the space above the hole. When you are working on a particular project, you may also draw the color symbol for that pattern on the label. Place your filled Annie's Thread Keepers on either a 3" Project Ring, or in Project Slides or Storage Slides.
Each Annie's Thread Keeper has a ridge that allows it to slide into the Project or Storage Slides and stay securely. Each Project Slide or Storage Slide will hold 16 Annie's Thread Keepers. To remove an Annie's Thread Keeper from a Slide, simply twist it slightly to open the Slide and pull the Keeper out gently. There is no need to remove several Keepers to access one in the middle of the Slide.



The Storage Slides are different from the Project Slides because they have hooks on the ends and will hang nicely in a standard file drawer or file box, available at office product stores.


♥N8105 $79.99
How Many?


---
Annie's Thread Keepers Starter Pack Annie's Thread Keepers Starter Pac includes 50 Annie's Thread Keepers with labels, four Project Slides, and a 3" ring.
---

Annie's Thread Keepers - 100 with labels Package includes 100 Annie's Thread Keepers with labels
---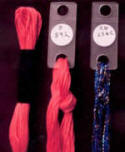 Annie's Thread Keepers - 300 with labels Package includes 300 Annie's Thread Keepers with labels

N8102

---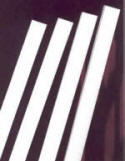 Annie's Thread Keepers - 4 Project Slides Package includes 4 Project Slides

N8103
$5.50
---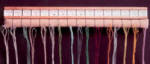 Annie's Needle Keeper with 25 strips Needle Keeper plus 25 double-sided strips

N8110
$26.50
---

25 Extra Strips for Annie's Needle Keeper 25 extra double-sided paper strips for Needle Keeper

6389A

---

Annie's Thread Keepers 10 Storage Slides with Hooks
---



---

View Cart
Sunshine's Newest Book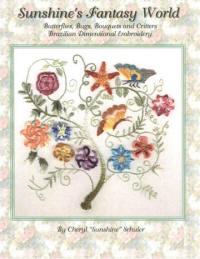 Best Sellers

♥ Thread Organizer
♥ Thread Packets
♥ Marking Pen


Information

♥Thread Inventory Sheets
♥ Thread Order Blank
♥ Needle Size Charts
♥ Thread VS Needle Size
♥What do I need to begin?
♥Opening A Skein
♥Straightening Your Threads
♥Storing Your Threads
♥Technique "Levels
♥Knotting The Thread
♥Correct use of Hoop
♥ Gift Certificates
♥ Contact Us
♥ Printable Catalog and Price sheets

♥ Teachers Information
♥ Wholesale Information
♥Resources/links

Where is JDR Brazilian Elegance?
A Little about Sunshine



Visit our totally Dimensional Embroidery site.




JDR Brazilian Elegance Specializing in Brazilian Dimensional Embroidery but providing stitchers with much more!
Striving to keep you Wrapped In Stitches!
P.O. 37, Hunter, ND 58048-0037 USA
© 1999-2015 All Rights Reserved


All JDR patterns & designs are copyrighted for JDR Brazilian Elegance. The designs presented for any other designer on our web site are also copyrighted by the individual designer. No part of this material/website may be reproduced in any form, in whole or in part, by any means-mechanical, electronic, graphic, downloading, photocopying, photographing, tracing or means yet to be discovered without written permission.
Prices are subject to change with out notice